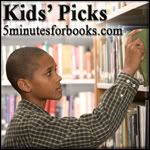 It's another third Tuesday, which means it's time for my favorite monthly event — Kids' Picks.
What are your kids reading? What have they loved? What would they recommend to friends or other children their age?

Now's your chance to tell us. Write your own post and put the direct link in the Mr. Linky below. If you're not a blogger, please let us know in the comments what your Kids' Picks are for the month. For ease in searching, it's helpful to include your children's ages that you are reporting on.