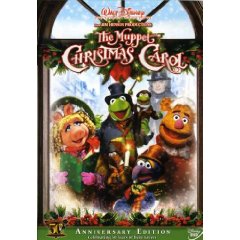 I have watched and enjoyed The Muppet Christmas Carol many times over the years. But since I just read this Dickens classic for the first time for the Classics Bookclub here at 5 Minutes for Books, I was interested to see what my take on the film would be this time around.
Like the book, the Muppets version is set in 19th century London. The Great Gonzo plays the role of narrator, Charles Dickens. And Rizzo the Rat (who gets a little distracting at times) is his side kick.
Ebenezer Scrooge, Fred, and their significant others are played by humans, but the rest of the cast is played by Muppets. Great casting! Kermit plays a perfect Bob Cratchit, who is kind, loving, and humble. Fozzi Bear plays Fezziwig (easy switch). The three ghosts were specially designed for this film, and they all replicate the ghosts in the book very well.
One significant change is that instead of a visit from only Jacob Marley, there are two Marley brothers (Jacob and Robert). They are played by the old guys that heckle from the balcony, and they are funny. It is a little confusing that they use 2 Marleys, but when they start singing it's important to note that one is "Avarice" and one is "Greed". These are both important themes in Dickens' book.
An additional change is that Fan, Scrooge's sister, is left out of the Muppets Movie. In the book, it is plain to see that she adores her big brother. Not only that, he responds warmly to her. Her son inherited her enthusiasm, and yet we see how time and greed have caused Scrooge to respond viciously to Fred. This is an important relationship that I think could have easily been included in the Muppets version, but doesn't hurt the story because it's not there.
Michael Caine, who plays Ebenezer Scrooge, does an excellent job of making this character come to life on the big screen. He is easy to hate! I am glad they chose to cast Scrooge with a human actor, instead of a Muppet. He goes through an enormous personality shift from the beginning of the story until the end. I would not think a Muppet would be able to show the range of emotion required.
Having said that, I do love the Muppets in this movie. They bring whimsy to a dark and sometimes depressing story line. When I read the book, I feel like Dickens is tickled with himself (like pondering what it means to be dead as a door-nail). That is the same kind of light-heartedness that the Muppets bring. Some of the "real-life" adaptations I've seen are darker than the classic story because of the absence of Dickens' wit.
In conclusion, I feel like this movie adaptation is as close as possible given the fact that it's a children's movie. How nice to give our children great entertainment and introduce them to the world of classic literature all at the same time!
Alicia is a Navy wife and SAHM to Timothy, 5, and Samantha, 3. She blogs at Experiencing Each Moment about life with two special needs children and any books they will give her a chance to read!