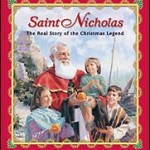 Who IS Santa Claus and where did the idea of him come from? In my home growing up we were taught that Santa wasn't a real person and I never lived under the illusion that he was. Now that I have children of my own I'm left to decide What to Do With Santa. When a friend told me about Saint Nicholas: The Real Story of the Christmas Legend (published by Concordia Publishing House) I was excited. As the back cover of the book explains, the legend of Santa Claus does have its roots in history. The original St. Nicholas was a real person. He was Bishop of Myra, a city in Lycia, Asia Minor (modern day Turkey). Nicholas was a man known for his generosity and help in caring for the poor. An online search for information told me that he would give out food, money and toys to those in need. By all accounts he was well loved and earned the title "Father Christmas" through his generous giving. Nicholas's feast day is celebrated on December 6th (the day that he died) and is frequently celebrated with gifts based on tradition. This particular story book is slightly fictionalized but educates children as to who St. Nicholas really was. It's an excellent resource and has spurred us on to start celebrating St. Nick's Day in our home on December 6th. It's a nice way to remember to be generous to others and remember a man who truly cared about other people and their needs. I'm good with that!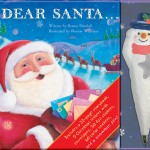 Dear Santa is a Silver Dolphin Publication and includs a 32-page storybook, 5 Christmas letters with envelopes, lots of fun stickers and a cute snowman pen. All of this together makes for a fun gift to the child on your list who is happily planning their under-the-tree celebration. The story centers around a young girl named Molly who wants to see Santa. She finally goes to sleep and wakes up in the North Pole where she learns about Santa's inside operations. This is a really cute and adorable Santa activity set that I have to keep wrestling away from my son (who is in love with the stickers and the pen).
What are your childhood memories of Santa? Did your family grow up with the Santa tradition and do any of you out there also celebrate St. Nick's Day? I'd LOVE to hear your traditions as my own little family builds our own. I just may incorporate some of your ideas into our home if you decide you'd like to share!
Carrie comes by her book obsession honestly, having descended from a long line of bibliophiles. She blogs about books regularly at Reading to Know.