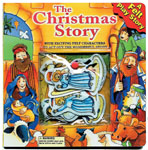 If you are looking for books to help you share the story of Jesus' birthday with your small children, I'd heartily encourage you to check out the offerings over at Standard Publications. They have a number of books on the topic, all of which look to be outstanding. The thing I appreciate is that each book is unique in its approach. First they have The Christmas Story (A Felt Play Story). There are felt pieces of all of the "major players" in the story and each page in this board book allows space for the children to use the pieces within the book. Each page has a paragraph or less of text making this book appealing to toddlers, in particular, who aren't as inclined to sit still. Yet there is plenty to keep them busy with and to prevent them from squiggling around too much. Excellent book! (We're making good use of it in our home this Christmas season.)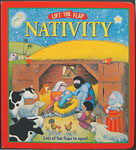 Standard Publishing also has a Nativity: Lift The Flap book. This is also a board book and with only one page of exceptions, all of the flaps are larger in nature. (Large flaps are appreciated by little and less gentle hands.) The flaps themselves are very sturdy and your children can have fun finding out Who is hiding in the stable, as well as what is inside the wisemen's gifts.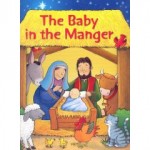 Lastly, there is The Baby in the Manger which has to be one of the coolest books my husband and I had ever seen! This too is a board book and, rather difficult to explain, has raised pictures on it. The pictures are layered with a thick die-cut outline of the characters. It's hard to explain but really cool to look at. (I know that's not a real helpful statement.) Opposite of each picture is a page of large text. Although the story is straight forward, I would peg this book at being more appropriate for ages 4 and up.
If you would like to win a set of these books, follow me over to my personal blog, Reading to Know, where I have a set to giveaway!
Merry Christmas!
Carrie comes by her book obsession honestly, having descended from a long line of bibliophiles. She blogs about books regularly at Reading to Know.