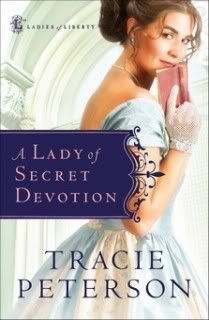 It's 1857 in Philadelphia, and Cassandra Stover couldn't be more excited when Mrs. Jameston, a wealthy, older woman from church, asks Cassandra to move into her grand home and work as her companion. Not only does this allow Cassandra to earn money for her widowed mother and younger sister, but she also finds herself living a life of luxury as she is treated as Mrs. Jameston's friend rather than an employee.
As Cassandra grows close to Mrs. Jameston, she strives to support her new role model. Unfortunately, when Mrs. Jameston's shady son Sebastian returns home, Cassandra must serve as a protector as well. Because of Sebastian's behavior towards his mother, Cassandra consents when an investigator asks her to help uncover the truth about Sebastian's illegal activities. Soon, Cassandra finds herself entangled in a dangerous situation, both physically and emotionally.
Cassandra's story, as told in Tracie Peterson's A Lady of Secret Devotion
, is an enjoyable, suspenseful tale. I admit that I am partial to historical fiction, so it didn't take me long to lose myself in it. I especially appreciated the attention to historical detail. A Lady of Secret Devotion
is the third book in Tracie Peterson's Ladies of Liberty series. I plan to read A Lady of Hidden Intent
and A Lady of High Regard
soon!
Lauren is a wife, a mother of two, and an avid reader. She blogs at Baseballs and Bows.