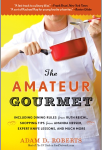 This book, The Amateur Gourmet (published by Random House), is laugh-out-loud funny. Audible laughter came pouring out my mouth as I read through this. At least, I laughed through the first part. Not so much through the second half.
Are you scared of cooking? Do you know have the foggiest notion of what you are doing or supposed to be doing in the kitchen? I introduce to you the Amateur Gourmet, Adam Roberts, who doesn't always know what he's doing either, but he's willing to help you laugh about it.
From the introduction:
This will happen to you. If you cook, I promise, this will happen. You will fail. Over and over again you will fail and then, even when you get better, you will fail some more. You will undercook your fish, you will burn your coffee cake, you will scorch, decimate, and curdle more often, at first, than you will smack your lips in delight. For those of us who come late to the kitchen, this is how we begin – we begin as miserable failures.
Roberts goes on to talk about how food is such a part of who we are, how we think and what we feel that to cross boundaries and try new things is almost an attack on our history and background. I can identify and say that it's hard for me to want to try new things. I like my safety net of comfortable and familiar foods around me. Roberts is around to encourage you to break the mold and also encourage you that it's ok to try and fail once or twice. Or a million times. Just so long as you keep trying new things!
The unfortunate aspect of this book is that he delves into his own lifestyle and lifestyle choices in this book which totally distract from the food talk. He would say that since cooking is a definition of our inner selves, he was perfectly justified in talking about his personal choices. The hang-up for me is, of course, that I do not agree with where he is at. Therefore my ability to enjoy the second half of the book was minimal at best. That being said, Roberts has great skill as a writer and is absolutely hilarious. I just wish he had stuck to talking about food.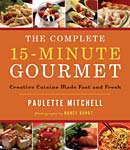 Speaking of trying new things, Thomas Nelson has published The Complete 15-Minute Gourmet for ease in branching out. I can't claim to have made anything in this particular recipe book but I can say that I've gotten quite adept at drooling over the pictures. I would really liked to have had a Turkey, Apple and Brie Panini for lunch instead of what I did end up eating.
The recipes in The Complete 15-Minute Gourmet look extremely appetizing and truly do sound like they are achievable. I base this on the fact that in looking through the book, no recipe was longer than a page and a half. Each recipe lists the directions in bullet point form which, for me, has always been a very useful thing. All of the recipes seem to make four servings. Tips for how to improve your cooking skills and outcomes are scattered throughout the book. The tips range from information on natural peanut butter to how to store eggs, slice cheese and use spices. I'm liking this! This book looks like a fun way to impress friends for small dinner dates.
Both books are helpful in their own way and would make a good combined gift to a friend or family member. You'd just have to wisely give them to someone who has a relaxed sense of humor and can ignore parts of Roberts' lifestyle that they might not agree with. If it's about the food, he's a funny, funny guy. The cookbook is great for people who want to break out of their shell and dabble in new tastes and pleasures.
Enjoy as suits you! That's what I've done.
Carrie comes by her book obsession honestly, having descended from a long line of bibliophiles. She blogs about books regularly at Reading to Know.