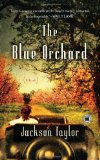 Jackson Taylor conducted research over a two year period in preparation for his debut novel, The Blue Orchard, reading old newspapers and speaking with people familiar with the real-life characters who would eventually be featured in his book, including, most importantly, his grandmother Verna Krone, whose life story is portrayed. This mixture of factual information, events, and experiences with some dramatization and conceived emotional expression makes for an interesting read.
Life is by no means a light-hearted affair for Verna Krone. Mistreated by adults in positions of power at a young age, and sent off to work to support her family instead of receiving the education that she longed for, discontent becomes the default emotion for her. As her life takes many different turns, she eventually finds herself settled in an unhappy marriage and employed as a nurse employed by a prominent and well-connected African-American doctor. In 1940s Pennsylvania, Dr. Crampton is one-of-a-kind, an educated black man with political connections and public adoration, from both the white and black communities. He's also the provider of the "illegal surgeries" that are at the center of his eventual downfall. The story opens with the arrest of Dr. Crampton and Mrs. Krone in the prologue, and after reflecting on her childhood and young adult experiences, continues on to the end of the 1950s.
While it's undeniable that this book cannot be discussed without approaching the topic of abortion, the author states in the afterword, "I wasn't interested in taking a position for or against, but I was simply fascinated by the truth, and the way historical fact informed the era that led to Roe v. Wade." I'd like to offer my opinions of the book in that same vein, without consideration of my own personal feelings on the general topic.
I'm of mixed feelings on this novel, truthfully. I found Taylor's writing to flow very well for the most part, but there were several instances in the narrative where I felt he suddenly switched tracks and I was left wondering about a particular event. The setting comes to life through his writing, though, and I imagine that readers who have any familiarity with post-Depression era Pennsylvania would enjoy the cultural and physical references to the area. At the heart of it, however, is the character of Verna herself. Unfortunately, I found it difficult to connect with her as a character, and I became frustrated at times with her apparent lack of self-awareness, at least as she's portrayed in the novelized version of her life. I feel almost guilty for saying that, knowing that she is the author's grandmother, but as a reader, my experience is highly influenced by how I regard the main character.
All in all, this is a novel that provides a historically accurate portrayal of one woman's experiences in a tumultuous life, in the center of an environment of highly-charged politics and racial inequities. The Blue Orchard was an interesting read for me, if not my favorite novel, and knowing that it is the result of two years of research by the author, I definitely appreciated the historical references that it provided about a time and place with which I am unfamiliar. It is definitely a controversial novel to discuss with others because of the key role of abortion to the story, but certainly a book that I will remember.
When she's not reading, cleaning or hanging with the kids, Dawn's blogging away at my thoughts exactly.