I love a good cookbook (and spend time reading them just like other books), and this one has thrilled me in so many ways.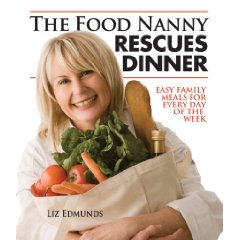 First impressions mean a lot to me, and the cover didn't compel me to dig right in, but once I cracked the cover, I was beyond impressed.
The photos are gorgeous, and the pages dividing the chapters are brightly colored. The advice is encouraging — and oh yeah, the recipes — they pass the test. Liz Edmunds presents family-friendly fare that goes beyond chicken nuggets and various spins on spaghetti.
I tried and enjoyed the taco soup, and roasted green chile casserole, a broccoli rice chicken casserole, and cheesy scalloped potatoes with ham. There are many others I want to try, including following her step-by-step instructions in the yeast breads chapter.
The recipes are good, but The Food Nanny Rescues Dinner is not just a cookbook. Edmunds' goal is to bring families back to the table. She wants busy families to be able to get healthy meals on the table, and then spend time together enjoying them. The book is filled with conversation starters to use to prompt us to do more than just bolt and run.
If you're looking for a book that is appealing to the eye and offers encouragement about feeding your family (their stomachs and their souls), give The Food Nanny Rescues Dinner a try.
Managing Editor Jennifer Donovan is a contributing editor at 5 Minutes for Mom. She blogs at Snapshot about daily life with a tween daughter and a preschool son.