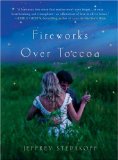 The Fireworks over Toccoa reviews have been posted (and are still being posted). Please check them out if you are curious if this is a book that you or your bookclub would enjoy.
But now, I want to invite any of you who have already read the book to join in our Bookclub chat, for the "Fireworks over Toccoa Bookclub." There is a linky on the bottom of the post, so if you are a blogger, I invite you to write your responses on your blog and a link up (As always — you can respond to any or all of the questions, or mention other themes you saw in this book apart from the questions). If you aren't a blogger, join the discussion via the comment section below.
A good review should never contain SPOILERS, but the discussion is designed for those who have read the book, so THERE WILL BE SPOILERS. This book has a surprising twist at the end, so don't spoil it for yourself, if you haven't read the book, don't read any more of this post!
The questions with an asterisk are from *the discussion guide that is available online. I have not included them all here, so feel free to use them for your discussions or to stimulate your own thinking (Am I the only one who looks at discussion guides after reading a book and thinks about them, even if it's just me reading it??). The others were written by our team.
Many of the characters in the novel deal with regret and/or loss. How did these themes affect the characters? How did it affect their decisions? With whom could you relate as they struggled through these emotions?
*Do you think duty is ever more important than love?
How would you describe the love between Jake and Lily? Was it genuine? Born of fear or loneliness? Could it have survived the intricacies of "real life," or could it only have existed in the tiny pocket of time outside of reality that they had?
How much of this story is a wartime story? Would Jake and Lily and her father and mother have reacted differently had they not been in the midst of a war? How has your family been affected by war?
*What was your response to Lily's decision to offer a thirsty African-American soldier a rare ice cold Coca-Cola in the middle of busy downtown 1945 Toccoa, Georgia? Do you think she should have been more direct in her action to help him, or stayed out of it entirely?
*Honey speaks the name of her son, Jonathan, only once in the story after he is killed in the war. Do you think the way she deals with his death is understandable? Do you think it's healthy? What effect do you think it has on Lily?
*Lily's father Walter is very clear with her about what he expects her to do when he speaks to her the morning after she has been out all night with Jake. What was your response to how Walter handled this situation? In his place, in what ways would you have reacted similarly or differently?
Though not a typical Young Adult coming-of-age novel, how is Fireworks over Toccoa the story of Lily's coming of age?
What personal connection, if any, did you have with this novel?: the place (Toccoa, Georgia), the World War II setting, influential families in small towns, military deployment, the loss of a child or sibling, temptation in marriage?
Bloggers — link up your posts discussing the book (not reviews — those go HERE). Feel free to candidly discuss all plot points, but do your readers a favor and issue a SPOILER warning at the top of the post.
As always, after you link we encourage you to visit around and respond to other bloggers' thoughts about the story.
Check out our current giveaways. Subscribe to our feed. Follow us @5M4B on Twitter.
**This is part of a paid promotion between 5 Minutes for Books and the publisher, St. Martin's Press.**