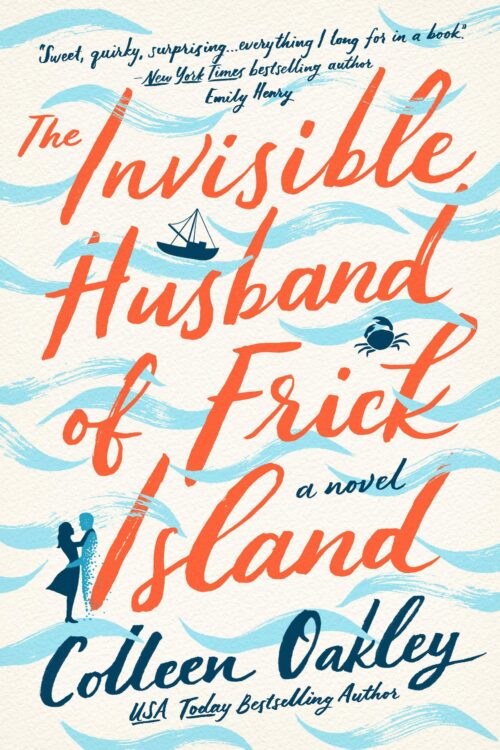 Like our other reviewers and our readers, I read a lot of books. I tend to stick to favorite genres and authors, so it's hard to find a novel with a premise that hasn't been done to death. The Invisible Husband of Frick Island by Colleen Oakley, however, has that and then some.
Frick Island is a tiny island in the Chesapeake Bay, off the coast of Maryland. There are less than 100 inhabitants, and their main source of income is from fishing, plus the tourists they get during the summer, though they don't take kindly to outsiders, and protect each other at all costs.
When Tom Parrish's fishing boat is found empty after a storm, the island rallies around his wife, Piper, as she grieves his loss. And when Piper starts acting like Tom is still alive, they all go along with her.
Anders Caldwell is a reporter who goes to Frick for a story on their cake walk and realizes there's a bigger story there, both about Piper, and the island itself, which is in danger of sinking into the ocean.
Anders starts going to the island regularly to get material for his podcast, and while he's initially rebuffed by the locals, he slowly gains their trust, as well as Piper's, as he tries to figure out if she really believes her dead husband is still by her side.
The first half of the book moves slowly, in fact one of Anders's few listeners complains that nothing's happening, and I was thinking the same thing about the book. But as the Podcast picks up and his subscriber numbers start growing, so too does the story. A mystery is also thrown in – is Tom really alive? If not, who is Piper meeting in secret?
If you like unusual stories with quirky characters and a lot of heart, then check out The Invisible Husband of Frick Island.