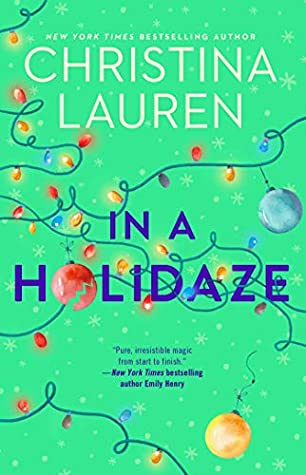 If you're like me, you're ready for 2020 to be over, and already planning your Christmas reads. In a Holidaze, by best-selling romance duo Christina Lauren, also known as Christina Hobbs and Lauren Billings, fits perfectly into this year's craziness, as the main character finds herself in a Groundhog Day-esque time loop.
Maelyn Jones is on her way to the airport with her family after their annual trip to the cabin in Park City, Utah, where they've spent every Christmas of her life with their found family — college friends of her parents and their kids. Mae is miserable after a drunken mistake and some other sad news, and asks the universe what will make her happy. Suddenly there's a crash, and she wakes up on the plane 6 days earlier, heading for Utah.
After a couple of tries at righting whatever wrong is causing her to loop, Mae finally decides to throw caution to the wind and go after what she really wants, and tells Andrew, the man she's been in love with since she discovered boys as a teenager, how she really feels.
I loved this book. While I do enjoy time travel, sometimes it makes my head hurt, and looping is a much more fun way to deal with time because past events are completely wiped out. Mae confides in Benny, the Australian, perpetually single college friend of her parents, and he takes her weird experience in stride.
While Mae is 27, she acts very much like a teenager at times, and the looping helps her to finally grow up and take control of her life. She also realizes the traditions that her family has held on to can be changed, and sometimes you need a little spontaneity.
If you are also in need of a little light romance in the coming holiday season, check out In a Holidaze.