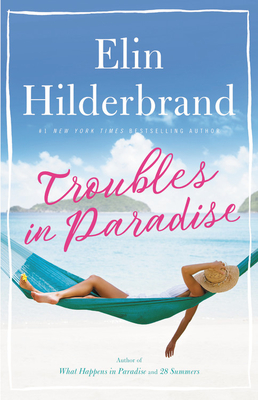 Troubles in Paradise is the third book in Elin Hilderbrand's trilogy set on the island of St. John in the US Virgin Islands, a departure from her normal setting of Nantucket, but just as full of unusual characters and entertaining hijinks.
In Winter in Paradise, Irene Steele learns her husband, Russ, has been killed in a helicopter crash off the coast of St. John. She's shocked to learn he not only owns a private villa on the island, he also has a mistress and a daughter there. Irene and her grown sons, both dealing with some personal issues of their own, travel to the island, only to fall in love, both with St. John itself and some of its inhabitants.
The story continues in What Happens in Paradise, and wraps up in Trouble in Paradise as Irene and her sons learn the truth about Russ's involvement in the illegal activities that brought him to the island frequently, settle their romantic lives, and survive a hurricane, based on the real hurricanes that hit the island in 2017.
While I thought Winter in Paradise was a good wrap-up to the series, I wish we had seen more of some characters and less of others, as there are a few new players in this book that I felt weren't necessary. I did like the cameo by one of the characters from the Winter series, which I loved.
The island of St. John and its neighboring islands are once again front-and-center in this book, and having visited the area several years ago it definitely made me want to go back. My husband and son were fortunate to visit the USVI this summer and even ate pizza from the Pizza Pi boat mentioned in the books, so that was a fun link.
As this is the third book in a trilogy, I highly recommend reading the first two books first to fully understand the story.
Thanks to NetGalley for the advanced copy of Troubles in Paradise.