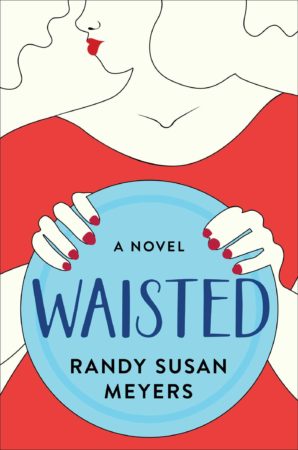 In a world that rewards women for staying slim and young-looking, Daphne and Alice struggle with weight and self-hatred. Alice is half-black, half-Jewish, and has extremely supportive parents, but when she met her husband she was coming off a bad breakup and was stick-thin. Now that she's had a baby and put on the pounds, she finds her sex life in shambles and her marriage in jeopardy. The thing is, she's an awesome person who runs a community center that provides many needed services and she is beloved by all, but she can't see it–instead hating herself for her weight, her binge-eating with the occasional bout of bulimia, and for how jealous she is of the skinny blonde who works closely with her husband.
Daphne's husband is the opposite of Alice's. Daphne's never been skinny, but he is less concerned about her weight than he is her mental health. He just wants to enjoy life together with her and their two teens. But Daphne was raised by a hyper-critical mother who obsessed about her daughter's size. It doesn't help that Daphne's two sisters are both as skinny as models, and her mother has remained tiny all her life. Like Alice, Daphne has a lot to offer the world. She's a make-up artist, and spends her time helping homeless girls and burn victims feel beautiful and confident. Also like Alice, Daphne struggles with self-hatred and out of control snacking.
The two women are so unhealthy mentally that they are very susceptible to the offer of what is supposed to be a new reality show called Waisted. It touts itself as an in-depth exploration of societal pressures and women's responses, offering quick weight loss in a spa-like setting, but the conditions on the ground are anything but. Alice and Daphne alike sneak off to join the show, not announcing their intentions to their families ahead of time. They meet there, along with several other inmates. And none of them are prepared for what the documentary crew actually has planned for them–an experiment in how far women will go to lose weight.
Their time there is filled with humiliation, degradation, deprivation, and cruelty. Honestly, it's difficult to read–especially for someone who has always struggled with weight herself. They are forced to weigh themselves naked in public, where their "coaches" will grab their stomachs and mock and berate them. Their phones and clothes are taken from them and they're forced to wear neon-yellow jumpsuits of a clingy fabric which accentuates their bulges. They are fed starvation rations, and even pills, and pushed to go on epic runs and work out for long hours. And of course, it works. The weight melts off them. But of course, this is the opposite of healthy and sustainable. And every moment is being filmed.
Daphne and Alice put their heads together and form a plan to sneak away–something difficult to do when they're in the middle of nowhere without phones or wallets. But they manage. And they return to their old lives having learned a lot about themselves, but also a lot thinner. It changes things. Daphne's mother is suddenly all approval. Alice's husband doesn't seem able to comprehend the torture and abuse she endured, nor does he seem able to truly understand her, but he certainly appreciates this "more beautiful" wife. Daphne and Alice haven't learned healthy coping techniques either.
Waisted is a fascinating look at a complex issue. I'm not sure it's entirely a success. Daphne and Alice and their families never really filled out the way I wanted them to, in terms of character development and growth, acceptance, and even a level-eyed look at how obsessed we are with appearance. The book also tried to tackle issues of race, and that felt like just too much piled on. The ending was rushed and unsatisfying. It's not a bad book, but I feel it could have been better.