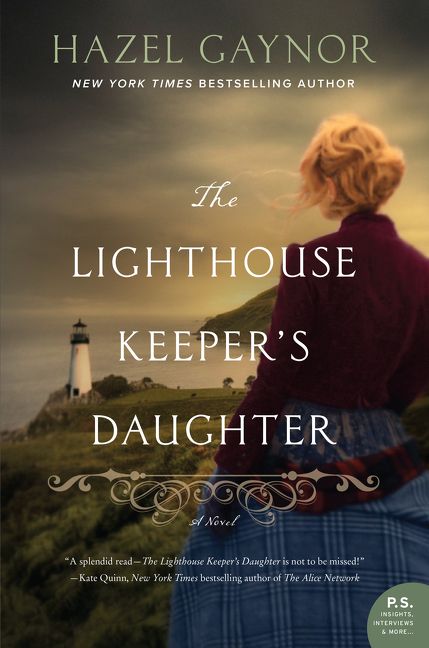 September 1838. Grace Darling is content to be a lighthouse keeper's daughter. She loves the lonely, rocky isle where she lives with her parents, her other siblings all married and moved away except for her youngest brother, who's at school. The thought of leaving fills her almost with a kind of panic, even as she recognizes that eventually her brother will take over and she'll be redundant.
Meanwhile, recently widowed Sarah Dawson takes her 2 children, James and Matilda, on a sea voyage to visit her brother George. He specially chose the safest ship for their passage, but the captain decides not to seek port in a storm and keeps going. The ship wrecks, leaving a few survivors clinging precariously to a rock. When Grace sees them, she insists on taking a small boat out into the storm with her father and rescuing them. People are amazed at her bravery and heroism, and she becomes a reluctant celebrity, with boatloads of people coming out to her sea-swept home just to catch a glimpse of her.
May 1938. 100 years later, Sarah Dawson's great-great grand-daughter is sent away from Ireland in disgrace. A lonely child who has never felt truly loved by her parents, at the age of 19 she did the worst thing she could think of, and is now pregnant by a young English soldier. Her distraught parents send her to Rhode Island to stay with a cousin, Harriet, who keeps a lighthouse off the coast of Newport. There, young Matilda will learn more of her courageous ancestor, as she faces impending motherhood, and tries to form a connection with the strange, proud woman who has agreed to host her.
The Lighthouse Keeper's Daughter is based on true events, both the bravery of Grace Darling and the Category 3 hurricane that charged through Rhode Island in September of 1938. Author Hazel Gaynor fills in the lines of the historical story believably, adding color and character to the outlines of the journalist's accounts and the ballads and plays that followed. While the story has some unmistakably modern flair, primarily in the characters of Matilda and Harriet, overall it's peopled with realistic men and women making the best choices they know how. It's very well done, and I enjoyed it.