This giveaway is now closed. The winners are…
1. Tiff from Three Peas in a Pod who said, "My eyes!! I love to watch What Not to Wear! Great giveaway!"
and
2. Kristy who said, "My best feature is my eyes and would love to learn how to do a smokey eye."
Congrats! And thanks to the folks at Hachette Book Group for sponsoring this giveaway.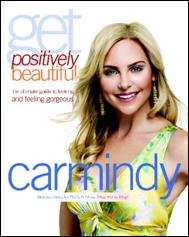 I've been a fan of What Not To Wear since the very first episode aired in 2003 with Stacy London and Wayne Scott Lukas.
That's right, I did NOT say Clinton Kelly. Wayne Scott Lukas was the first male co-host of What Not To Wear. I was hooked on the show immediately and have been a loyal fan ever since.
So when I was asked to review Carmindy's latest book, get positively beautiful, I tripped over my two left feet zapping back an enthusiastic email. I did have the wherewithal to also request a giveaway, and the publishers were so generous they are giving me FIVE copies to give away! YES, FIVE! Two here and three on Chic Critique!
But before we get to that, let me tell you about the book. I have read it cover to cover. Her overriding theory of beauty is that "a confident face knows its finest features and plays them up." Carmindy starts by demanding that her reader turns off negative thoughts about her appearance and focuses on the fantastic. I love how she encourages us not to compare ourselves to other women, particularly movie stars and supermodels. Throughout the book she emphasizes the belief that there is no set beauty ideal and every woman has unique beauty.
As a Christian woman, I believe that God has made each of us unique and beautiful in our own way. It is not wrong to focus on our assets as long as we don't allow them to become a point of pride. It IS wrong to tear down what God has created. So while Carmindy may go a bit overboard with her "mirror mantras", I think her overall point is valuable. We will be much happier and more productive if we focus on the good and not the bad. And this book helps us do just that.
I particularly liked it when she said that our pore obsession has become "utterly insane and is a poor use of our energies". I have certainly spent too much time bemoaning the craters pores that have appeared on my post-35-year-old face. Carmindy encourages her readers to embrace their complexion and focus on finding products to showcase it. In fact, she goes through every facial feature and explains in detail how to make the most of it with makeup and skincare. She breaks it down into several different categories (for example, for the eyes she describes makeup techniques for each eye color and shape) and gives specific instructions for maximizing your assets. She encourages her reader to determine her "feature focus" and start there.
There is a chapter describing the tools you need to optimize your makeup application. Carmindy's advice is to start collecting the tools that help enhance your feature focus and then build your toolbox as you experiment. I have already added a few new tools for my collection on her advice.
At the end there is a section with before and after shots and descriptions of how Carmindy achieved their dramatic makeovers. I pored over these pages, studying the makeup techniques she used.
This is a book for every woman who wants to make the most of her assets. The advice is practical and affordable. There are even product recommendations in the back.
WIN IT! For your chance to win one of two copies of Carmindy's get positively beautiful, all you have to do is leave a comment on this post telling me your "feature focus" – your best feature, the one you want to maximize with Carmindy's beauty techniques. The winner will be selected on Friday. Good luck!
If you're visiting from the Bloggy Giveaways carnival, please check out our weekly Tuesday community carnivals and how you can Join In! If you aren't, check out more giveaways at the Bloggy Giveaways Quarterly Carnival!
Jo-Lynne blogs daily at Musings of a Housewife, and she runs a beauty product review blog, Chic Critique