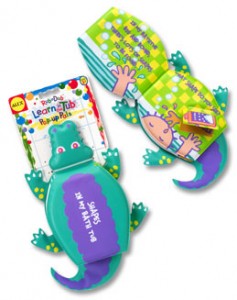 Wait! Don't bypass this post! (I know I would have just a short while ago.) I've never cared much for bath books, to be quite honest, because I wasn't sure a young child could differentiate between what books were allowed in the tub and which were not. I picked one up at the dollar store once, but it never actually made it into the tub because I foresaw a difficulty. Then one day I decided it would be a fun treat, and tossed it in the bathwater. My eldest son's eyes were wide and then he pounced upon the book with delight and amusement. Books in the bathtub?!
Recently I've discovered a whole new use for bath books and I have grown in my appreciation for them. We recently added a Bookworm2 to our family and he isn't as fond or gentle with books as my oldest son was. This has been something of a struggle for me in learning how to find books that delight and amuse our new one. Bookworm2 is quite the kinesthetic learner and so I've been hunting down touch-and-feel books and resources that he can manipulate in some way. Enter: Alex Toys bath books.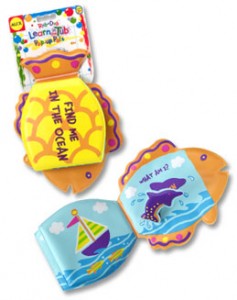 Alex Toys offers a whole line of bath books that have been perfect for my one year old's hands and attention span. I can hand over one of these books and not worry about it being torn or soiled. They feel interesting to him. They have lift-the-flaps, introducing children to colors and shapes and which give him things to poke around with. They are bendable and colorful fun!
There are two sets of bath books available from Alex Toys. The first includes Find Me In The Ocean, Shapes In My Bathtub, Colors of the Pond and counting at the Beach. The other includes The Castle, The City, The Jungle, The Farm. You can learn more by visiting Alex Toys.
These books do not just remain in our bathtub (although they have seen the inside of it) but they have traveled with us in the car, outside (we live in Oregon where it rains – no worries!) and are scattered around the house. These books are AWESOME for young kids who might not have yet grasped the concept of "We need to be gentle with books." However, when you want to invite little ones into your reading world without fear of destruction, might I suggest a bath book? They are the go-anywhere-do-anything books which have worked out perfectly for us!
Thanks, Alex Toys, for new and different fun!
Carrie comes by her book obsession honestly, having descended from a long line of bibliophiles. She blogs about books regularly at Reading to Know and Reading My Library.