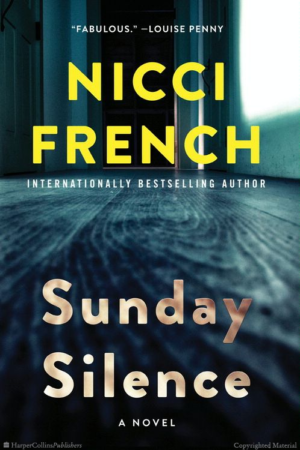 Frieda Klein is a psychologist whose life has become seemingly a magnet for crime. In the preceding books of the series, she has worked as police consultant and developed friendships with various policemen and women. She was also a suspect at one point. I gathered this from comments between characters in this latest addition to the series, although it was never really spelled out and I felt I was missing quite a lot. The book can stand on its own, although you'll have to  muddle your way through a bit.
The author of the books are a husband/wife team, and I think that explained why the book read as if it had been translated from a foreign language. You know what I mean…a lot of short, choppy sentences, and not too complex vocabulary. It's the sort of book one sees for sale in airports. Perhaps you can already tell that I didn't especially like it, but I liked it enough to finish it. The characters were fine but I didn't find myself really caring about any of them. It ends on a cliffhanger which means there will be at least one more book. They tell us the perpetrator halfway through the book and then we watch the police try to catch him out. It's suspenseful.
Sunday Silence opens with a body found under the floorboards of Frieda Klein's house. She recognizes it as a policeman who'd been chasing a serial killer named Dean Reeve, who supposedly died of a suicide 7 years earlier, although Frieda has long said it was his twin who died and Dean Reeve is still alive. This is supposed to be a message for her. Soon, though, all those around her are  being attacked. Her niece is drugged and abducted; her friend is beaten with a crowbar. The attacks grow bolder and more intense. Is it Dean again, or is someone copying his obsession with Frieda? Will Dean communicate and therefore show that he is in fact alive?
I do think a lot of people will enjoy this book. I didn't dislike it, but it's not one I'll ever bother to catch up with the backstory. So I'm really damning it with faint praise. But if you like suspense novels with creepy protagonists, you may just love this one.