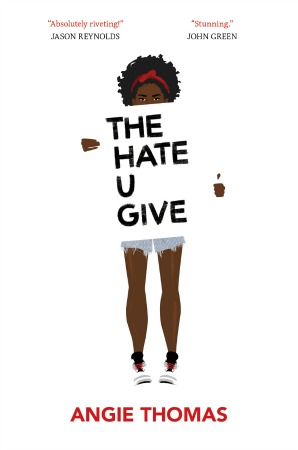 Starr navigates two worlds on a daily basis- one in her neighborhood where gunshots are a common background noise and drugs are readily available from multiple gang-related sources, and the other at the private school she attends as one of only a handful of minority students. When she witnesses up close the killing of a life-long friend at the hands of a police officer, justice becomes a very concrete and personal concept. Angie Thomas' debut novel The Hate U Give is simply astounding.
My heart hurt reading this ultra-realistic and authentic first-person narrative. My 17-year-old son put it in my hands immediately after finishing it in one day, insisting that I read it right away. I had anticipated this reaction from him, which is why I purchased it for his personal library. This timely novel hits upon themes that have been a fact of life for people of color for pretty much ever, but perhaps many non-POC are only recently becoming more aware after publicized police shootings.
Without sugarcoating a thing, Thomas gives teen readers a story as familiar as the real-life ones they've watched get covered in their social media feeds. It also addresses the code-switching that many people of color describe when having to go between different communities, in the protagonist's life spent between her family's low-income neighborhood and the posh private school she attends. Starr shares her struggles in understanding her own identity as she tries to figure out just how much of her true self she can let show in each different environment.
Angie Thomas clearly and passionately voices the perspective of a teen trying to understand her identity, dealing with racism both overt and covert, and witnessing a horrible act of police violence. This is a tough, but undeniably important, read for teens and adults alike. With its movie rights already purchased and casting begun, I greatly look forward to seeing its adaptation on the big screen.
For other recommendations of young adult fiction that focus on social issues, please head over to 5 Minutes for Mom.