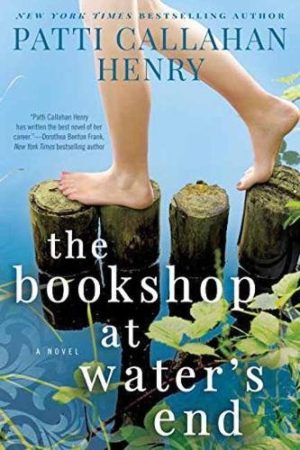 Isn't that cover lovely? Perfect for this beach read. And with school starting soon, at least for my kids, The Bookshop at Water's End is the perfect selection if you're trying to hold on to summer as long as possible.
Bonny Blankenship has just accepted a position at a new hospital when a blast from the past comes into her ER. When another patient dies, possibly because of her distraction, her world is turned upside down. She decides to finally leave her husband, taking their teenage daughter, Piper, with her, and escapes to Water's End, the place her family vacationed for a few summers when she was a child.
Bonny convinces her best friend Lainey to join her at the river house but Lainey has bad memories of the island where her mother disappeared. And Piper, who has been roped into babysitting Lainey's two kids, is nursing a broken heart thanks to the boyfriend who dumped her for her best friend.
The story alternates between the three women's point of view as each works through their issues. Will Bonny lose her new job, and does she want to keep her old one? What did happen to Lainey's mother? And will the cute boy who works at the grocer's help Piper move on?
All of these questions and more are answered in The Bookshop at Water's End. The titular book shop makes an appearance now and then, along with the bookshop's owner who knew Bonny and Lainey as girls and may know more about what happened to Lainey's mom than she lets on. There are other colorful locals, including an elderly woman who forms a connection with Lainey's son, who add some spice to the story.
If you're looking for a last-ditch summer read, then you can't go wrong with The Bookshop at Water's End.