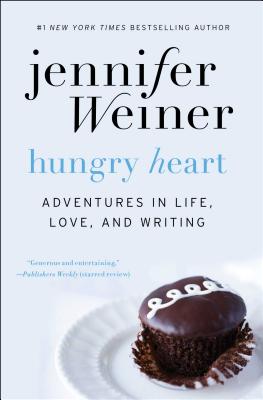 True confessions time: I had never heard of Jennifer Weiner before I read her funny, engaging memoir. In my defense, I spent a decade living overseas, and that coincided with the decade in which she was becoming well-known for writing women's fiction and speaking out in defense of it. So I came to her memoir an open book, so to speak (yes I realize that's a nearly unforgivable pun), with no preconceived notions. And I really enjoyed spending time with this emotionally honest, wry, funny woman, who's also a good writer and excels at putting down on paper the experiences of the many, even while her experiences are unique to herself. The book has just come out in paperback, but last year our editor Jennifer reviewed the hardback copy (linked to her review).
Hungry Heart tells the story of Jennifer's life, but like any good writer, she picks and chooses where to shine the light of memory. It's the story of her becoming a writer, but also the story of what shaped her along the way–her father's metamorphosis from loving and supportive to cruel, unavailable and distant, her mother's giving birth to 4 children and then coming out as a lesbian, her Jewishness, her struggles with her weight and especially how others defined her by that weight, her escape into the novels of Judith Krantz and Danielle Steele, her complicated relationship with her siblings and especially her sister, Molly (Aside: I loved all the stories about Molly! I love Molly in a book! I would hate to be her sister though). There are stories of her dogs through the years, of the birth of her first daughter and how the weight of how she thought it "should" be put incredible burdens on herself and her marriage, of her visits to her Nanna in Florida (hysterical! some of my favs); there are stories describing what it's like to have your novel turned into a movie, what it's liked to be fat-shamed and/or slut-shamed on national media just for having an opinion, and more. I am still chuckling at some, still grieving with her at others.
Weiner has the ability to bring her readers in close, rather as if we were sitting down to drinks (which I think would be really fun to do, actually. Jennifer–I can call you that? Thanks–please let me know when is a good time for you!) and chatting, about weight and men and raising daughters and society's schizophrenic view of successful women and more! Hungry Heart is very enjoyable, even the heartbreaking parts. A great summer read.