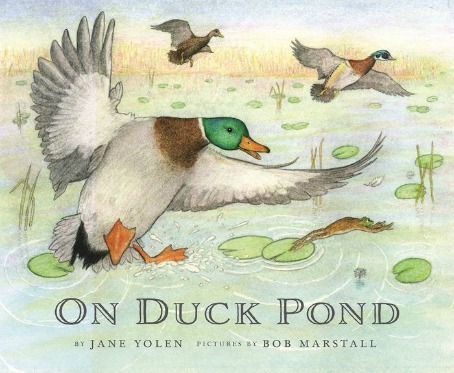 Spring is upon us, and since children are very often innately curious and observant about the natural world, what better time to share a nature-themed book? On Duck Pond, written by Jane Yolen and illustrated by Bob Marstall, showcases the widely populated world of a small body of water.
A pond may look still and quiet, but there are all sorts of creatures who call the area their home, whether passersby notice them or not. The flurry caused by the landing of a group of ducks gets the attention of a boy walking his dog at the opening of this picture book, as the commotion is loud and disruptive to the usual tranquility. With all the chittering, whistling, chattering, and spattering, the rest of the pond's inhabitants begin to scatter.
Through rich language (like all those awesome verbs I borrowed for the last sentence) and realistic illustrations of interesting creatures like turtles, frogs, and, of course, several different types of ducks and other birds that reside near a pond, this story delightfully portrays an outdoor experience. Young readers will be introduced naturally to many different kinds of animals in the context of the narrative, including seven species of ducks! For more information, they can consult three additional pages of resources at the end that share facts and photographs from the Cornell Lab of Ornithology, arguably the most comprehensive source of information about birds available to the public.
Jane Yolen's gentle touch is evident here, and this is a picture book to be read slowly and savored, appreciating the rhyming scheme that feels natural and taking in all the details in the pictures.