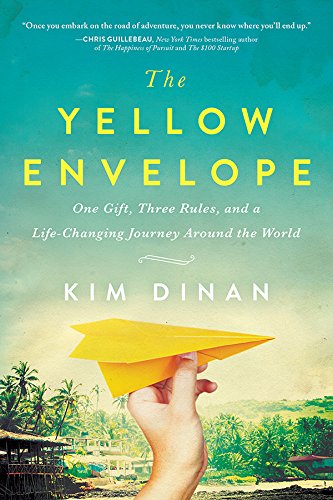 This is exactly the type of book I enjoy: a travelogue with the element of a memoir project, taking to the road to "travel," or more accurately, begin to live a nomadic lifestyle. In addition to that, the element of that yellow envelope ensures that they aren't just traveling but actually interacting with the community.
It would not be a memoir without some sort of self-discovery. Kim Dinan begins the The Yellow Envelope: One Gift, Three Rules, and a Life-Changing Journey Around the World feeling unsatisfied about her good life, which begins her quest to see if she could leave everything behind to travel. She convinces her husband to join her, but the huge change in their day to day rhythms and her big change of focus in her personal life are bound to cause some growing pains and conflict.
The places they visited were not places that one typically expects, veering away from tourism and experiencing local culture, staying with locals, dining with them, buying their local wares, and using the funds from their yellow envelope too help or support or bless when they can.
When they left for their trip, some friends who wanted to be a part of it gave them a yellow envelope containing a large cash gift to supplement their experience. It comes with three rules: don't overthink it, share your experiences (or keep some for yourself), don't feel pressured to give it all away. At first this prospect excites Kim and Brian. They know it will push them to get involved with people in a different way, but they also know that it will pull them out of their comfort zone. Just how far turns out to surprise both of them.
The writing is great. There is a sense of suspense in wondering how certain travel mishaps are going to resolve, as well as the interpersonal conflict between Kim and Brian.
I enjoyed reading about Kim's adventures and it honestly made me want to have some of my own adventures.