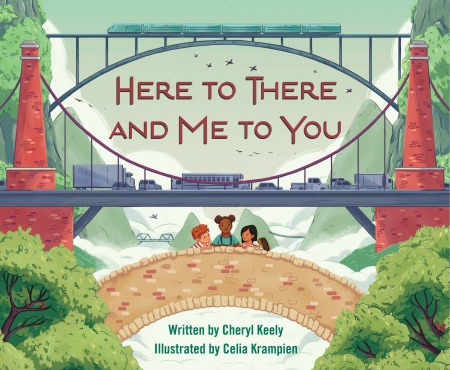 Combining a storybook narrative with the side presentation of real world facts makes A Book of Bridges: Here to There and Me to You a unique and interesting picture book. Written by Cheryl Keely and illustrated by Celia Krampien, it explores the idea of bridges, both the expected and unexpected kinds.
From wooden-covered to drawbridges, wildlife bridges to stones lined up across a stream, bridges come in a wide variety of shapes and sizes and serve varying purposes. Even people can make bridges of sorts, by bending over backward or connecting hands! The illustrations include depictions of famous bridges, like London Bridge and the Golden Gate Bridge, along with other basic types.
What I like best about this picture book is that it can be read in different ways. The main text is simple and accessible to readers as young as preschoolers, giving a basic sense of why bridges exist. But many pages also include smaller text on the side that provides information and examples to support the illustrations. For example, the first railway suspension bridge ever built was created over the Niagara River at Niagara Falls between Canada and the U.S., and information about it can be found accompanying an illustration of the bridge in a gorgeous fall display of changing leaves around tourists on an overlook. Older readers will be more interested in the real-life examples, and they help the book to be appropriate across a wide age range.
I'm a big fan of this new picture book for the way it makes the subject interesting and engaging for young readers.