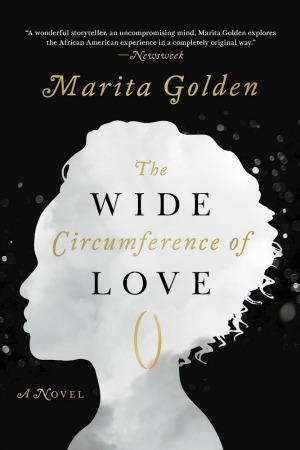 Early-onset Alzheimer's disease is a devastating diagnosis, because with a lack of a cure, the patient and his or her family can do little more than wait for their entire lives to be transformed in ways that are difficult to imagine. In Marita Golden's new novel The Wide Circumference of Love this plays out for the Tate family, and their history and their futures are presented in a touching and heartbreaking narrative.
The novel opens with a brief glimpse into the unraveling mind of Gregory Tate, who can't seem to get a firm grasp on the current moment, becoming lost in a powerful but fractured memory from his early adulthood. With this introduction in place, the novel goes both forward and backward in time in various chapters, and readers are introduced to Gregory's wife, Diane, and their children, Sean and Lauren. Gregory's diagnosis comes at a time when he is still an active and successful professional architect, while Diane serves as a family court judge. Their home of Washington, DC, becomes a character onto itself, with so many of their pivotal shared moments taking place inside the city.
As readers learn about Gregory's current day diagnosis and his somewhat rapid decline over the course of just a few years, we are also treated to the story of his romance with Diane, some decades prior. Both came to the relationship with the lasting effects of their very different childhoods, but their compatibility was undeniable. The effect of the disease cuts deeper and deeper as we become invested in their shared life together.
Lauren and Sean are adults now, and their individual relationships with their father differ. Lauren has followed in her father's footsteps, becoming a talented architect herself, but Sean has struggled with his post-high school pursuits, though he seems to be on a solid path now. It's difficult for both of them to imagine their father as they know him disappearing, especially as they are coming into their own.
The most powerful part of the narrative for me was Diane's role, having to make decisions for her husband's care that inevitably led to guilt and turmoil. Objectivity is almost impossible as she watches the man she has long loved turn into someone else. Both his and her safety become issues, and Diane is confronted with the reality of the debilitating disease.
This novel had me in tears time and time again, often unexpectedly as the weight of the situation would suddenly come to a character in an otherwise innocuous moment. Golden writes with emotion and realism, so the characters are truly alive on the page.
I realize that I don't often point out the cultural background of novels' characters if they are white, which obviously shows my own unspoken bias of what I consider a "default" and what I expect readers of my reviews will assume. It would be remiss of me not to indicate that the Tate family is African-American, in both acknowledging the characters' background and because their individual identities are important to their experiences. The universality of the family drama is undeniable, however, as Golden has created a powerful story about love and commitment in the face of an enduring disease.