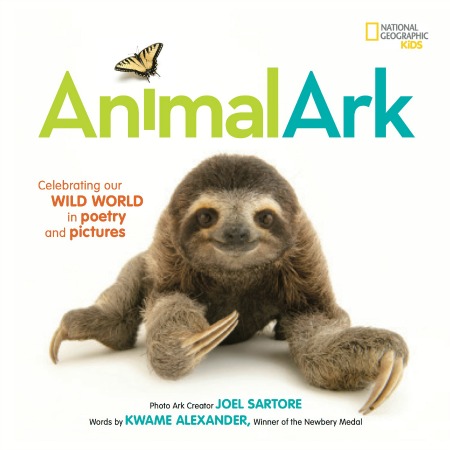 Get ready for a wild ride, because this book is an amazing feast for the senses, regardless of the age of the reader. Animal Ark with poetry by Kwame Alexander and photographs by Joel Sartore may be geared toward children, but the energy of the bounding words and the incredible detail of the skilled photography are sure to be appreciated by anyone who has the great fortune to come across this awesome book.
Kwame Alexander has demonstrated his way with words again and again with his engaging and popular books, and here he uses the poetry form of haiku to complement the photographs of dozens of creatures. His poetry brings these animals to life, focusing on their features and abilities. The text itself moves all over the page, varying in color, size, and weight, encouraging the reader to play with the words as they read. The playfulness of the poetry matches the photographs perfectly, helping us to more closely examine the animals and think about their lives.
And that is a meaningful intent of the National Geographic Photo Ark project by Joel Sartore. His photographs of captive species will hopefully inspire people to put more effort into conservation projects, especially for the animals of the world most in need of protection. Here, Sartore presents each animal against a simple black or white background, with nothing to distract from the creature itself. Trust me when I say that every single photograph, whether it is of a wee darkling beetle or an enormous Asian elephant, showcases the unique beauty and awe of an individual animal.
This picture book is so much more than a collection of poems and photos. It's a testament to the diversity of creatures on our planet and their will to survive in an ever-changing world. This is a must have book for school libraries, classrooms of all levels, and personal collections.