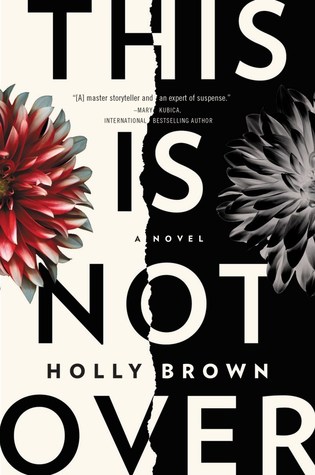 This is Not Over is an unusual book. Told from the viewpoints of two extremely stubborn women, it is well-plotted and original. But I spent a large portion of the book wanting to slap them both! (metaphorically of course. I am not advocating actual violence against fictional characters).
Dawn is a young woman who loves to fantasize about living the good life by renting out beautiful homes for weekend getaways with her husband. So she's irate to get a letter from the owner of their latest rental, stating that she's not refunding Dawn's deposit because of a large stain left on the sheets, a stain so entrenched that even bleaching did not budge it and the sheets had to be thrown out. Dawn grew up poor and hungry. Now she's married, finishing her college degree, and living the middle-class life (overall), but she carries with her a huge amount of baggage. She responds in anger, as if the owner is accusing her of being so dirty, so unclean, that anything she touches must be discarded. Plus, she knows she left no stain on the sheets.
Miranda is mystified by Dawn's angry response in the form of a scathing review. She's also worried. Although she thinks of herself as a good person, married to an oncologist and filling her days with volunteer work, she still needs that money. Because Miranda has a secret. She's determined to support her son, Thad, a meth addict who has dropped out of rehab. Miranda figures any money she sends him helps protect society from him stealing to support his habit. Plus her greatest fear is an overdose. But her husband has forbidden her to have any contact with him, and she knows she can't take money from their joint account. Sending Thad money earned from weekend rentals of her parents' old home, a beachfront property in Santa Monica, provides the perfect solution. Never mind that she's breaking Santa Monica's rental laws.
Neither woman is willing to let it go. Things continue to ratchet up and up. If you were friends with either of these women (and part of their problem is that neither of them really has friends), you would gently take them by the shoulders and tell them, "Let it go. It's not worth it. Who cares?" And it gets worse and worse. You will be amazed at how far each is willing to go to destroy the other.
Miranda relives each minute of Thad's childhood, trying to figure out when things went wrong. This is excruciating. Sometimes I caught my breath over the aching sadness of it; sometimes I was appalled at how things were handled. The family is definitely a mess, I will say, without going into more detail because you will want to discover it for yourself.
This is Not Over is follows as each of them circle closer and closer and grow more and more daring. Although, as I said, I disliked the 2 main characters at first, they gradually won me over–especially when we see personal growth. It ends on a note of hope.
Purchase Links: HarperCollins | Amazon | Barnes & Noble
Author Links: Facebook