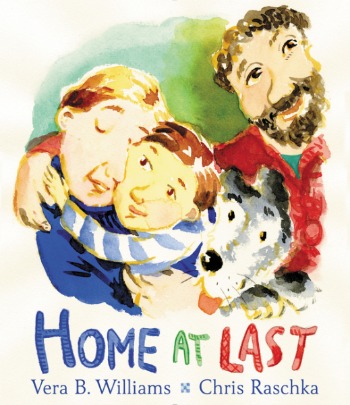 A heartwarming story of coming together as a new family after an adoption, Home at Last by Vera B. Williams and illustrated by Chris Raschka, shows love as a universal experience, regardless of how a family is formed.
A young boy named Lester is finally being adopted by his new parents, Daddy Albert and Daddy Rich, after a year-long wait. Leaving the children's home, Lester clings to his little blue suitcase that holds his favorite small toys, a bit of familiarity as he begins a new chapter in his life. A mix of nervousness and excitement fills his heart, and he happily gets settled in his new home with his parents and their dog Wincka.
But when night comes, Lester finds himself having trouble going to sleep. Though he can't articulate any specifics, he knows that he just wants to feel safe. His middle of the night jaunts into his parents' room begin to leave everyone exhausted. Cups of cocoa, stories, and songs can only last for so long, so his parents continue to bring Lester back to his own bed each night, but eventually it takes it toll.
When tempers flare one night, Lester finally admits his fears to his parents– fear of being alone, fear of bad people coming in the middle of the night. Their heartbreak for their new son is palpable, even though they don't know how to immediately make him feel safe. It's a good thing Wincka does, though. Doggy cuddles can go a long way in a young child's life.
There is so much to love about this picture book. The dialogue is rich and emotional, giving voice to a variety of feelings experienced by both Lester and his parents, all of whom are going through a major life transition. The book doesn't speak down to its readers, but instead offers complex and engaging text that reaches out to children and families of all types. The love between child and parent is universal and beautiful.