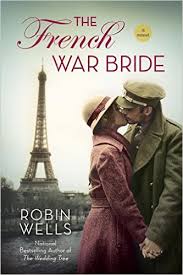 Don't judge a book by its cover! The problem is, before I've even started my review I've probably lost the half of you who would most enjoy this book. The cover's an absolute cliche that tells you nothing and doesn't actually represent anything that happens in the book. The title's not much better. It strikes me as the working title until they could think of something more interesting. So ignore these things. This is a great read that I thoroughly enjoyed and have been recommending to people right and left.
What makes it so interesting? First of all, the set-up. Two elderly women meet in a home for assisted living; one still with traces of her French accent, the other still beautiful. Amelie always leaves her door open for friends until one day Kat Turner, age 91 and dying of cancer, shows up and announces, "I could never see what he saw in you." And they're off. Kat was once engaged to Jack, the boy of her dreams and her high school sweetheart. He went off to France during WWII and came home with a French wife and a little girl. This didn't fit Jack's character at all; he exuded integrity and it didn't make sense that he would marry another woman without first breaking it off with the second. Kat never understood it. Now, 60 years later, Jack has died and Kat is dying. She's determined to learn the truth of how Amelie managed to snare and seduce her fiancé.
Amelie agrees to tell her story, but in her own way, which means going back to the beginning of the war. Both her brothers joined up as soon as France declared war. Amelie and her friend Yvette still managed to fit in some evening outings, on one of which Amelie, small, dark and slight as opposed to Yvette's blonde curviness, met a young Jewish man. Yvette gets engaged to Amelie's brother, but as the war progresses, both Amelie and Yvette suffer many losses small and great–parents, houses, food. They both join the Resistance, and the fight helps them to survive when literally starving. The narrative goes back and forth a little bit, with Kat filling in how she angled for and caught Jack, but the American bits are rather boring in comparison to the rather breathless pace of life in war-time Paris.
The French War Bride is a fantastic story, and I'm not even going to tell you anything about how Jack and Amelie met or how they eventually forged a marriage that would last. The story of how Amelie even gets to America is fascinating. This is the best kind of historical fiction–well-researched facts that take you to a specific time and place, memorable characters that you care about. Highly recommended. Just ignore the cover.