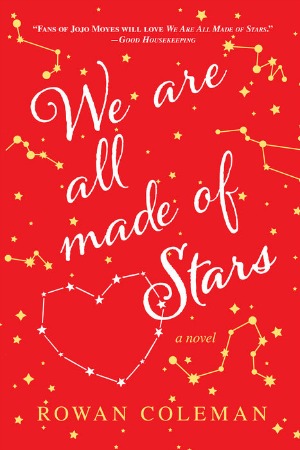 You know that image of a middle-aged mom who cries at everything, from movies and books to television commercials? Well, that's me, and it's been me for much longer than I've been a middle-aged mom. While it's not unusual for me to cry at emotionally-driven fiction, Rowan Coleman's We Are All Made of Stars might have set a record for me for most tears shed, as I cried on practically every page!
Don't let that deter you from picking up this novel, though, as its story is really quite beautiful, even with its extreme heartstrings-pulling effect. Stella is a hard-working hospice nurse, who has chosen to regularly work the night shift. While on the job, she spends times with the patients, sees to their general and basic medical needs, but also offers to help them write letters to their loved ones before they pass. As draining as her job can be, it provides a respite from her personal life and the night shift allows her to give her husband the space he seems to need at home. Since returning from Afghanistan due to a serious injury, he hasn't been able to communicate, or often even look at Stella, and she is left unsure what remains of their marriage.
In addition to Stella, there are two other characters around whom the story revolves, with the narrative shifting through each of their perspectives. There's Hugh, a single man living a quiet life as an historian for a unique museum, and Hope, a young woman with cystic fibrosis who has entered the hospice facility for recovery from an illness that almost took her life. Each character's voice becomes as quickly recognizable as they are all likable.
Interspersed between chapters are letters written from patients' deathbeds, though they appear without connection to the story at hand. Some are heart-wrenching, others are touching, and a few even elicit guffaws.
At first glance, it would be easy to say that a book that revolves around a hospice nurse is mostly about death, or at least preparing for it, but it becomes quickly apparent that this isn't the case at all. In fact, the opposite is much truer. This is a book about life– embracing it in all its beauty and ugliness, and learning to fight for the best life possible. It should probably come with a box of tissues, though, just to be safe.