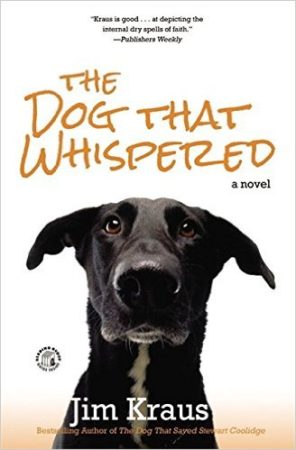 Last year I read Jim Kraus' book The Dog That Saved Stewart Coolidge and liked it well enough. My 11-year-old son was totally drawn to the cover while I was reading and asked to read it too. Since the content was clean and there was nothing beyond his maturity level (even though it's a book for adults), I let him. I really had him in mind when I accepted The Dog That Whispered for review, though I am a sucker for dog stories.
I thought that this summary was done so well that I'm using it here:
Wilson Steele is a single professor and Vietnam veteran who likes living alone, insisting it's too late for him to have a family. His mother disagrees. When she impulsively adopts a rescued black lab mix, she insists Thurman is special, and has whispered of the coming of grandchildren. Wilson brushes the notion off as fantasy. When his mother learns of her retirement community's 'no pets' policy, she forces Wilson to take the lovable dog. Wilson notices Thurman's growls do sound like words, but he knows he's just projecting his own thoughts on the animal. If Wilson is talking to neighbors on their walks, and spending time with Emily, a widow with three children, it isn't because Thurman encouraged him. After all, everyone knows dogs can't talk…can they?
This was such a good story. Yes, I loved the idea of a dog who is looking after this lonely man, prodding him to begin to live, and I loved Wilson's actual redemption story, but the idea of a dog truly being able to communicate just won my heart. There were a lot of characters and whether they appeared on 10 pages or 150, they were warm and fleshed out well, and added to Wilson's story.
This novel has a slightly heavy element in dealing with Wilson's burdens of the aftermath of war, but I am pleased that I can still pass it along to my 12-year-old to read as well.