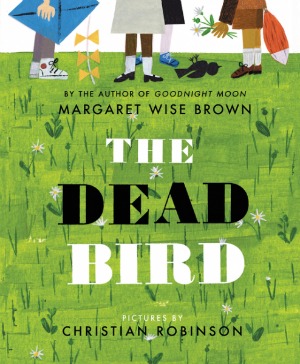 The name Margaret Wise Brown most likely brings to mind images of a little bunny getting ready for bed, but Goodnight Moon was just one of her many children's books that are as wonderful today as when they were first published. Her approach was groundbreaking in that it acknowledged the world through the eyes of the children for whom she wrote. Originally published in 1938, The Dead Bird has now been reissued with pictures by Caldecott Medal winning illustrator Christian Robinson.
The premise is simple and straightforward, just as a child might experience it. Four friends playing in the park come across a dead bird on the ground and they observe it, feeling for a heartbeat and noticing when its body becomes stiff. They decide that they must do for the bird what they know grown-ups do– bury it and hold a funeral, with songs and a special stone marking its burial spot.
The impact of their find is strong on the children, apparent by the level of seriousness they all show in doing what they think is right. The ending of the story continues the realistic portrayal of childhood, in that they eventually move on from the death of the bird. The entirety of this picture book is a simple beauty, acknowledging a reality of of life that most children will come to face at some point, in some fashion, be it the loss of a relative or a pet. Margaret Wise Brown helps translate this experience into a story that may help them process and understand.
With this reissue, children get the added bonus of the brilliant Christian Robinson's illustrations that are delightful in their simplicity, which fits perfectly with the entire feel of the book.
HarperCollins Children's Books will continue with one additional book in fall 2016, Christmas in the Barn, reillustrated by Anna Dewdney, and one never-before-published book in 2017 , North, South, East, West, reillustrated by Greg Pizzoli. Additional titles with illustrations by Loren Long and Jerry Pinkney are scheduled for fall 2017 and winter 2018.