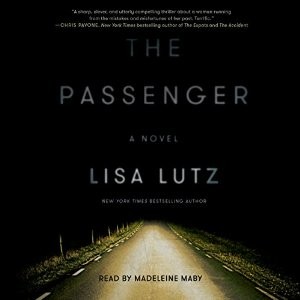 Lisa Lutz is best known for her Spellman Files series, and her latest novel The Passenger takes a darker turn with a story of a woman on the run.
Tanya Dubois insists she did not kill her husband — she even tried to perform CPR after he fell down the stairs. But she doesn't want the police asking questions, so she obtains a new ID and money from a sketchy character by phone and quietly slips away out of town.
Now going by the name Amelia, she meets a woman named Blue who sees through her fake identity. Blue has her own shady history and it's not long before Amelia, now Debra, is on the run again, criss-crossing the country and trying to make ends meet while staying out of trouble. But trouble seems to find her wherever she goes.
Inserted into the narration are emails between Ryan and Jo (which I'm going to use to refer to the main character from this point because the name changes are confusing) which start out in the past but progress to the present. It's clear Ryan is involved with whatever caused Jo to leave home.
Reading The Passenger results in a sort of whiplash as Jo changes identities, her appearance, vehicles, and living arrangements. She tries to change her personality along with her identity but doesn't really know who she is or even wants to be. It's also not clear who the titular passenger is until the end of the novel, when it's revealed what Jo has been running from all along.
Notes on the audiobook:  The Passenger is read by Madeleine Maby, who has the perfect voice for the character of Jo.