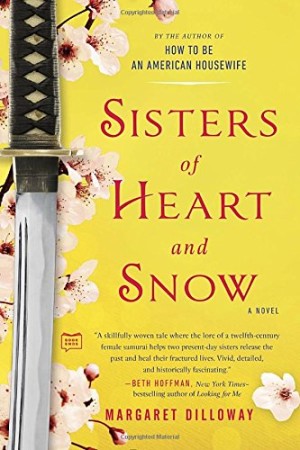 Sisters of Heart and Snow is what I like to call a past-and-present novel. Estranged sisters Rachel and Drew are brought together when their dementia-stricken mother, in a increasingly rare lucid moment, asks Rachel to find a book. The book turns out to be the story of Tomoe Gozen, a real-life female samurai who fought with strength and bravery during the Japanese Civil War in the 12th century.
Rachel is happily married, with a daughter in college and son in middle school, but hasn't returned to her childhood home since she was kicked out at the age of 16. She's in a legal battle with her father over her mother's care and needs Drew's help to retrieve the book. Drew is a brilliant viola player but stuck in a dead-end job at a dog grooming shop, doing music work on the side. It doesn't take much to convince her to leave LA and drive down to San Diego when Rachel asks her to come.
As the sisters work to repair their relationship — they drew apart once Rachel left home — they try to understand their mother, who was brought to America as a sort of mail-order bride and never put their needs first. Rachel also has to deal with her daughter dropping out of college to get married, and Drew is attracted to a British librarian who may be returning to his home country. The jealousy, anger, bitterness, and love experienced by both sisters rings true and anyone with a sister will recognize their struggles and loyalties to each other.
I usually stay away from past-and-present novels as the two stories are often not tied together well. That is not the case here. As the sisters learn more about Tomoe and her friendship with the wife of the man she loves, they begin to draw strength from that story and stand up for themselves so they can lead the lives they know they deserve. They wonder if she is an ancestor of theirs and if that's why their mother wanted them to read the story.
Margaret Dilloway is quickly becoming the Amy Tan of Japanese-American novels. I liked the Japanese history and small cultural references and the relationships between the women. I previously reviewed How to be an American Housewife, based on the author's mother's personal experiences, and recommend it along with Sisters of Heart and Snow.