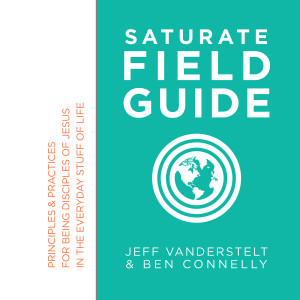 I believe that the reason we are left here on earth after we come to know Jesus and are adopted into his family is so that we can tell others about him. Knowing Jesus should change every single aspect of how we live our lives, from how we respond to small things like irritating cashiers or drivers who cut us off, to our attitudes towards the poor or to refugees, to even rethinking our political views.
Saturate Field Guide is a new study put out by pastor and church planter Jeff Vanderstelt, along with his co-author, Ben Connelly. In it, they invite readers to experience something deeper. They not only make the case that knowing Christ should change our entire lives, which is, um, kind of what the Bible says, but they also have put together a small group study to help you and your friends or family grow in this area.
For far too many Christians, the idea of being part of a church simply means attending a Sunday morning service, maybe a small group or a sprinkling of special events each year. Is that what God had in mind for his bride, the Church, when he sent his son to save her? they ask. And if you are squirming a wee bit in your chair right now, as I am, you already know the answer.
Click over to 5 Minutes for Mom to read an interview with the authors to find out more about this book.