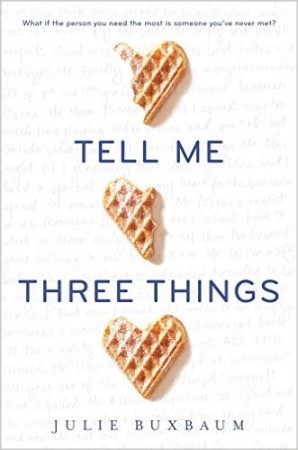 It's been a long time since I read a book in two days (really, two or three sittings). This was one of those times. I loved Julie Buxbaum's novel for adults that I read a few years ago, After You, so when I saw she had a new book for young adults coming out, I definitely wanted to read it. The YA genre is not foreign to me, so it wasn't a stretch for me at all to pick up a book by an author I already knew I enjoyed reading.
In Tell Me Three Things, Jessie moves from Chicago to LA when her dad gets remarried, and she feels totally alone. Her new stepbrother attends the swanky private school her stepmother pays for her to attend, but he doesn't talk to her. The mean girls — who are also perfectly formed and beautiful — make her feel insecure with their taunts and looks, and on the first day of school she has to introduce herself in all her classes, revealing just how different she is from these rich kids when she shares about her summer working at Smoothie King.
When she gets home, she has an anonymous email from "Somebody Nobody" offering to help her navigate the waters of Wood Valley High School, including telling her whom to befriend (a small select few) and whom to avoid (probably everyone else). These things help, and she likes having a safe place to go to ask questions, but why must he remain anonymous? She and SN begin communicating throughout the day and building a real friendship, but he still refuses to meet her in person.
In the meantime, she makes other real friends — a couple of girlfriends, an English project assignment buddy, and the hot son of the owner of the bookstore where she works. She begins trying to figure out who SN is, and of course, who she really wants him to be. As a reader it was fairly obvious to me from the very beginning, but not 100% confirmed until much later.
I loved this book. The voice was strong, the characters were that wonderful mix of confident and insecure that great YA fiction presents so well and seems true-to-life for many high schoolers.
I don't like the general YA "12 and up" category. Some YA is 12-year-old fiction, but most YA fiction is appropriate for high schoolers, not middle-schoolers. This novel contains profanity, not a lot and not really superfluous, but the content that is definitely not appropriate for a less mature teen is drinking, drugs and sexual activity. The book is about 16-year-old juniors in high school. Whether or not a particular person chooses to participate in these activities, they are concepts familiar to a real child of that age, whereas a younger child reading about it filters it in a different way.