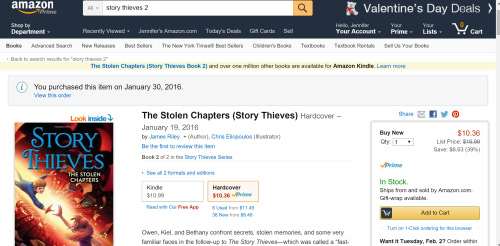 If you don't understand the life of a book reviewer, the title might leave you wondering, "What else would you do?" Well, as a book reviewer, I am offered more "free" books — advanced copies for review — than I could ever read. There are books that sound interesting, but in order to honor the people sending it out, if I can't get to it within a reasonable time after it publishes, I won't accept it, so I certainly am careful about books I pay to bring into my house.
I still love books, and I still visit bookstores, especially on vacation. The books I buy tend to be for my kids, though we do review books together as well. But while browsing my Facebook feed this weekend, I realized that a book sequel that Kyle and I had been waiting for had been released, so I hopped over to amazon and ordered right away.
To find out what the books are and why it was so important for me to buy them, please click over to read my full post at 5 Minutes for Mom.