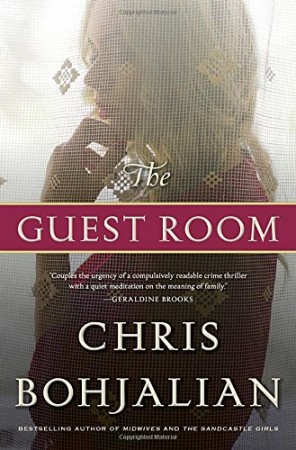 The sex slave trade and a bachelor party gone horribly wrong are the focus of Chris Bohjalian's latest novel, The Guest Room.
Richard doesn't know what he's getting himself into when he agrees to host his younger brother's bachelor party in his home. He's not surprised by the strippers, but things get out of hand quickly when the stripping turns into something more. Richard stops himself before things go too far with one of the girls, and before he knows it, the Russian bodyguards that accompanied the girls are dead, and the girls have disappeared. Suddenly Richard's marriage is in trouble, he's been thrown out of his house because it's a crime scene, and his job is in jeopardy, as the police discover the girls are sex slaves and possibly underage.
Alternating with Richard's story is that of Alexandra, an Armenian teen who is tricked into leaving her grandmother's home with promises of a future in ballet. It doesn't take long for her to figure out things are not as they seem as her belongings are taken away and she's locked in a hotel room with no contact other than the men who use her as a toy. She begins working as a courtesan in Moscow before being selected to come to America with two other girls because of her desirability, and three weeks later, is running for her life.
Bohjalian writes about difficult subjects and his look at the very real sex slave trade is eye-opening. He expertly weaves a story of a family torn apart with one of a young woman with her own tragic past fighting to survive. While Richard's wife and daughter are trying to figure out if they can trust him again, and he's trying to keep his good name and avoid being blackmailed by one of his brother's friends, Alexandra is hiding from both the police and the Russians who want to kill her. The novel culminates in an explosive and deadly confrontation, and the story moves quickly to get there.
If you've enjoyed Bohjalian's other novels and like reading stories with good pacing, believable characters, and a chilling finale, then check out The Guest Room.