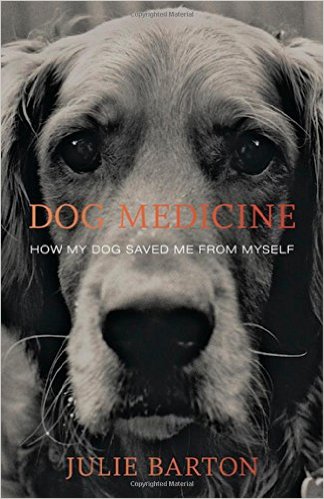 In Dog Medicine, Julie Barton writes honestly and personally about her descent into major depression. I think that mental health issues are so important to talk about, and I'm glad that people are willing to share more readily now. The fact that this happened in the 90's when treatment and medication wasn't nearly as common or accepted, frames her severe depression in a slightly different way. She did a good job of explaining the inexplicable.
The book spans ten years or more, going back and forth between her years growing up in a typical family with some atypical anger issues, and her current adult life.
One day she returns from work to her small New York City apartment and literally sinks into depression, onto her kitchen floor, where she remains, immobile. She manages to call her mother who drives from Ohio to bring her home. Her family tries to help her recover, when they don't know what's wrong or what they can really do about it. Their encouragement showed their love for her, whether it was just getting her out of the house to walk down the driveway, or driving her to dog breeders when she decided she wanted a puppy.
Enter Bunker, the Golden Retriever. He changed everything. Julie can't explain why, and she doesn't try to, but dog lovers will appreciate and understand the bond and the power of being needed.
With medication (in both pill and fur form), Julie is able to make some significant changes in her life, moving cross country to start again. She still struggles with the consequences of her past and current medical problem, but a story of a starting again is one that I never get tired of reading.
It's a dog story, so as inevitably happens, there are some moments fraught with emotion and uncertainty for Bunker, but this combination of the story of the love between a dog and a person and the first hand account of dealing with mental illness is a winner in my book.
This book made my round up of Gifts for Doglovers Who Love Books. Check out the others on 5 Minutes for Mom.