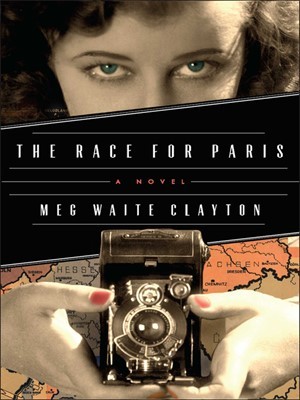 Normandy, 1944. The Allies are in a race to Paris, and right along with them, a cadre of journalists and photographers, all hoping to get the scoop of a lifetime. Being there when Paris is liberated will certainly make a career. However, the double standards of the time are in full force. While women are certainly represented among the journalists, they are not allowed to be at the front lines. Instead they are relegated to the back, to softer news and stories of wounded soldiers and hospital nurses. They aren't allowed any luxuries either, and one of the reasons used to keep them there is the lack of latrines for women.
Olivia "Liv" James Harper isn't having any of it. She meets Jane, a maid's daughter who was writing for her local paper in Nashville when the editor's wife decided they, too, needed a lady correspondent. Jane dyed her hair a brighter blonde, got her uniform in New York at Saks Fifth Avenue, said goodbye to her single mother, and headed to France, opening her life in a way that wouldn't have been possible given the constraints of her childhood. She's camped out with a hospital unit a relatively safe distance from the front, sleeping under her cot for added safety from German artillery, when Liv arrives. Liv's husband is a New York editor and he's home safe while she's out getting the stories. The plot starts out gradually, with depictions for women in the camps, but soon picks up when Liv, frustrated when she's not permitted to cover any real action, decides to go AWOL and talks Jane into going with her. The two meet up with Fletcher, a British photographer and friend of Liv's husband, who agrees to accompany them.
The author has certainly done her homework. The Race for Paris is told in first person by Jane, but it's a blend of fact and fiction, based on real-life reporters like Margaret Bourke-White, Lee Miller, and Martha Gellhorn. Her descriptions of daily life, the indignities of living rough, the horrors of war witnessed first hand, the effect of the civilian population, are all first-rate. I loved how Jane would bleach her roots and then rinse her hair out of her helmet. I'm pretty sure I'd do that too if I had to.
Of course the indignity of the women having to go AWOL, which meant that they then could either not submit their work, submit it anonymously, or let some man take the credit, is fully recognized for the patronizing sneer that it was. Fletcher is a quiet hero, as traveling by himself would have meant comfortable quarters and hot meals, whereas traveling with two AWOL women means camping in the woods and bartering for rations.
The three develop close relationships that at times veer into the uneasy. It's obvious all along that Fletcher is in love with Liv and that Jane could easily be interested in Fletcher. There's plenty of back story on all of them, told during late night confidences. The added drama helps move the plot along, but the high points are the descriptions of Paris, the French people, and later Holland.
The Race for Paris
does an excellent job of bringing to life a side of history that most haven't considered before. I highly recommend it.