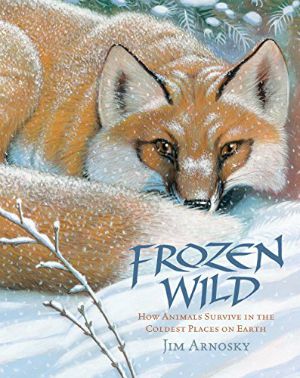 In the world of children's nonfiction, the name Jim Arnosky immediately brings to mind incredibly detailed illustrations and fact-filled picture books about the natural world and its inhabitants. With his latest offering, Frozen Wild: How Animals Survive in the Coldest Places on Earth, Arnosky once again introduces children (and the adults who love his work, too!) to the lives of creatures with in-depth information and realistic illustrations full of life and energy.
The introduction that starts off the book is an invitation to readers for a shared adventure from Arnosky himself.
This book is about the wild animals of snow-covered fields and forests, the great northern plains, vast stretches of frozen tundra, and icy polar regions– wild animals that have to survive day after day, night after night, out in the cold. I've been outdoors every day walking in their tracks, learning more about their lives in winter. Dress warmly and follow my snowshoe trail. Let's learn together."
That adventurous spirit and an innate sense of curiosity comes through in all of Arnosky's work, and his enthusiasm for the natural world reads in the tone of the text. This is far from a dry, boring textbook or informational guide; instead, Arnosky highlights animals by sharing interesting facts and describing their environments in ways that children of all ages can find something that appeals to them.
Arnosky is known for his artistic talent, rendering illustrations of animals that look unbelievably life-like and detailed. This book features five fold-out pages that allow for larger pictures, such as the inside of a beaver dam, a menagerie of arctic animals both above and below the water, and the wide variety of birds that live in Antarctica.
This is the type of nonfiction that is meant to be slowly pored over, so be sure to encourage children to take in the illustrations without rushing to turn the pages. Tidbits of information can be found by each individual animal's picture, so don't feel obligated to read the book straight through from beginning to end. Introduce your kids to the wondrous world of survival in the coldest parts of our planet with this incredible resource.