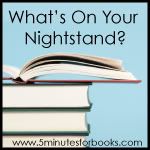 Be social! Follow us on Pinterest and Facebook.
This is the back-to-school edition. For me that means, be happy that it is written. Between some back-to-school activities with the Bible study I lead, getting school supplies, listening to the excitement of my kids' first day at school in her last year of high school and his first year of middle school.
(Case in point — publishing FAIL — I thought it published, but no. That's why it's late.)
I did look back at my goals from last month, and I did pretty well, reading some books for pleasure that I wanted to, as well as keeping up with review reading.
What about you? Will September open up more time for reading for you, or less? I'm thinking it will be less for me, but of course I'll still be reading.