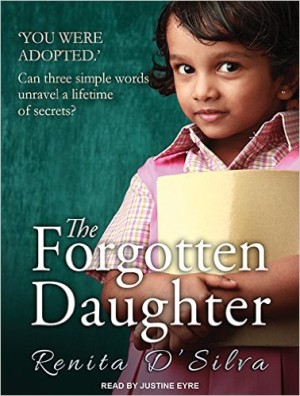 First — please don't judge this book by its cover. I'm not sure where it comes from, and I don't even think it's very accurate to the storyline. It looks amateurish and cheesy, and that's not what kind of novel this is.
It's bad enough to find that your parents have been killed in an accident. But then to be given a letter from their lawyer informing you that you were actually adopted is more than Nisha can take. She's a smart, accomplished woman, and this takes her by surprise, and is something she can't logically reason out, which is what she usually does, so she feels adrift. She has always felt something was slightly off. She has a wonderful boyfriend who loves her, but she's never been able to bring herself to tell him she loved him. Her parents have always cared for her needs but seemed distant, and now she wonders if they really loved her at all.
The Forgotten Daughter is Nisha's story, and she is a multi-layered and lovely protagonist (probably sweetened even more by the great narration from Justine Eyre, see below). As she tries to figure out where she came from and the truth behind her parents' choice to adopt her, the readers are along for the ride as well.
Devi is a modern Indian woman, yet still fighting judgment from her critical mother and community. She longs to just get away so she can dress and speak as she wants — and that dream actually comes true. However, when her mother falls ill, she returns with questions and regrets.
Shilpa's story was the most confusing to me. It was hard for me to figure her out and to make the connection at first, and I think a lot of that had to do with listening to it in the car and not being able to process the story as easily as if I were reading the words on a page. That said, Shilpa was a wonderfully complex character whose development was critical to the story.
It was a satisfying, if slightly rushed, conclusion, and honestly I'd love to know more of Nisha's and Devi's stories.
Renita d'Silva is a Pushcart nominated author. I'll definitely look out for more by her in the future.
Buying options: At the writing of this post, the novel was only $3.99 on Kindle, and the MP3 CD is only $12.99 at Tantor, both good deals that I thought I'd call to your attention. When I buy an audiobook, I like bang for my buck, and at 10 hours, this gives you that.
NOTES ON THE AUDIOBOOK:
Justine Eyre is a fantastic narrator! I enjoyed this story, and would have liked it if I read it or listened to it, but I truly loved this presentation of the novel. Since the narrative changes from an educated young English woman of Indian descent, a young Indian woman and an older Indian woman, I did not realize until over halfway through that Eyre was reading for all of them.
Listen to a sample at the Tantor Audio page. It's a good set up to the story as well.