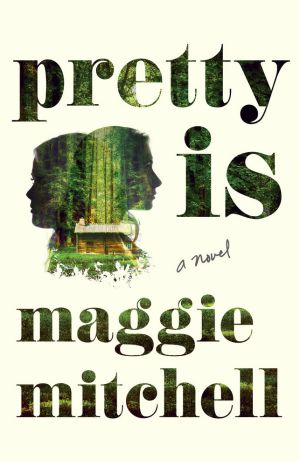 From the first paragraph, Maggie Mitchell's debut novel Pretty Is grabs readers' attention with its chilling tone.
Everyone thought we were dead. We were missing for nearly two months; we were twelve. What else could they think?"
Talk about a gripping opening. Nearly twenty years ago, two girls were abducted and held for almost two months in an isolated cabin. Forced to wear simple matching dresses and to keep their long hair loose, the girls spent that time in confusion, not understanding why they were taken or what their abductor intended to do with– or to– them. But one thing was clear from the beginning, they were chosen, researched and targeted, each specifically picked up off the street while going about her normal routine. Why them? What was special about them that the abductor sought them out? All these years later, those remain the unanswered questions.
Lois, the spelling bee champion and studious one of the girls, has gone on to become a college professor, but also penned a mostly fictional novel under a pseudonym about the abduction of two young girls by a strangely charming man. Carly May, the beautiful pageant girl, opted to leave her past completely behind her, cutting ties with her family and legally changing her name to Chloe before becoming an actress, mostly on the C-list circuit. Though they haven't spoken since shortly after they were discovered and rescued from the cabin, their inner lives have remained entwined, and the adaptation of Lois' novel into a feature film forces them both to reexamine their shadowed past.
Why did they go with him? Why didn't they run away? Was it more than simple fear that kept them there? Uneasy things to contemplate, yet Lois and Chloe have struggled with those thoughts for nearly two decades, and the results are devastating to their emotional health. Readers gradually come to see the larger picture of the paths they each decided to take, and the challenges they both have with emotional connections.
This novel's chilling tone kept me so attentive that I believe I was holding my breath for pages at a time. The alternating narratives give readers the opportunity to compare and contrast Lois and Chloe's perspectives about how the experience changed them, and though they both live their adult lives with an echo of those two months always present, the effects differ between the two very different women. Dark and compelling, this novel begs to be read quickly, consumed intensely as the women try to figure out how to stop being haunted by the man they never understood, the man who never harmed them, but obviously took something precious from them.