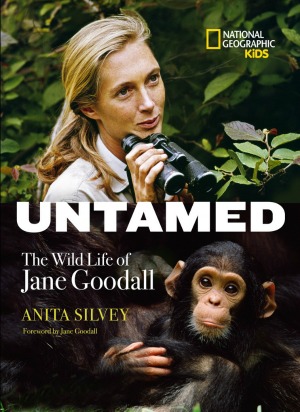 Eighty-one years ago, Valerie Jane Morris-Goodall was born in London. Since young adulthood, she has worked tirelessly to bring attention to the needs of the natural world, most especially chimpanzees after first observing them in Gombe Stream Game Reserve, in what is now Tanzania. Untamed: The Wild Life of Jane Goodall by Anita Silvey is a fantastic nonfiction book for older children chronicling her most memorable experiences and accomplishments.
Even as a very young child, Goodall's interest in animals was evident, demonstrated in stories of her incredible dedication to observing and learning about the animals around her. At only five years old, she spent hours sitting still on the hay in the family's henhouse in hopes of catching site of an egg being laid. That innate patience would serve her well later in life when she had the opportunity to observe chimpanzees in the wild, another exercise in long periods of waiting.
This National Geographic Children's Book shares information about Goodall's life from her childhood days spent outdoors playing and learning, through her groundbreaking work with chimpanzees that influenced the study of primates by scientists ever since, to her current day efforts with the Jane Goodall Institute through which she is still active in conservation and education efforts. Her amazing life is chronicled here with engaging text fitting for children eight and older, along with interspersed photographs that are stunning in their depiction of her encounters with animals and dedication to her work.
Goodall's life story is likely at least somewhat familiar to adults today, but perhaps less so to children, but they are the very people in whom Goodall puts her hopes for the future. Through her creation of the Roots & Shoots program, she encourages young people to work in their communities to make the world a better place.
Goodall herself provides a foreword that gives readers a sense of her personality and curious nature right at the start. I cannot recommend this children's nonfiction highly enough for its enthusiastic presentation of a woman young readers need to know about, so I heartily give this our Five Star Reads honor.