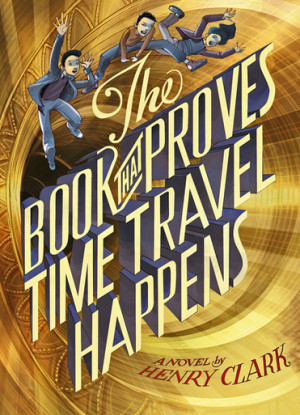 The Book That Proves Time Travel Happens is a clever book, with periods of excitement as well as some puzzles that take the reader outside of the book and into their brain. Michelle had previously reviewed What We Found Under the Sofa and How it Saved the World by this same author, and I thought it sounded like the kind of book my 11-year-old son and I would like, so when I received a copy of this in the mail, I put it into his hands immediately.
Ambrose is having some trouble at home. His dad likes to dress up. He's a teacher at Ambrose's middle school, and he does think that dressing up in different time periods can help make history come alive, but that's not really his deal. He just likes wearing the clothes. So whether he's dressed as a solider or a gladiator or a monk, he feels more comfortable wearing clothes outside of his time. That obviously inspires ridicule, which makes it hard for Ambrose and his mom as well.
Ambrose and his friend Tom Xiu go to a carnival that has come to town. Ambrose heads to a fortune telling booth to see if someone there can offer some wisdom on the situation. He meets a girl there, Shofranka, and that's where the adventure starts. She asks for their assistance to help her find an important family heirloom – a trombone – that she thinks has been hidden in their town.
Well, it's not just any trombone, the right combination of notes can get them out of trouble (or into trouble) by moving them through time. This trombone, plus Tom's coin and his book on the I Ching, helps them decide how to respond to certain situations.
They go back into time several times, and there is just enough sci-fi to keep it factual and interesting, if science fiction can be factual. True sci-fi fans know there are certain truths that accompany time travel. One of them is that the time travelers have to be very careful not to affect the outcome of history. This ends up being one of the messes that they make and have to rectify. They also wrestle with the idea of trying to change things that should be changed to prevent calamity.
Kyle has the other book by Henry Clark on his summer reading list, and we'll definitely look forward to what he writes next. This book was a great mix of intelligent writing, adventure, humor, and puzzles.