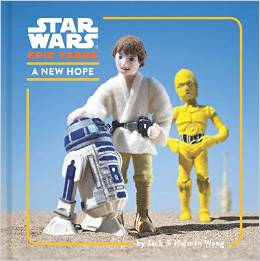 Wow.
I received these books in the mail unexpectedly, and at first glance I wasn't sure what to make of them. I knew they were artistic and unique with the crafty scenes made of felted yarn, and flipping through the oversized 7×7 board books, I saw one word per page, and thought they were toddler/preschooler word books.
When I really examined Star Wars Epic Yarns: A New Hope, I found that was not true at all. Yes, the artwork was amazing, with the iconic scenes, characters and costumes just as you'd imagine them, but even though each scene is just paired with one word, it tells the complete story of the movie. Amazing.
Check out some of the scenes featured in all 3 books as well as the punny back cover of Jedi (and all of them). Starting at top right, the words that go along with these scenes are swing, force, team, monster.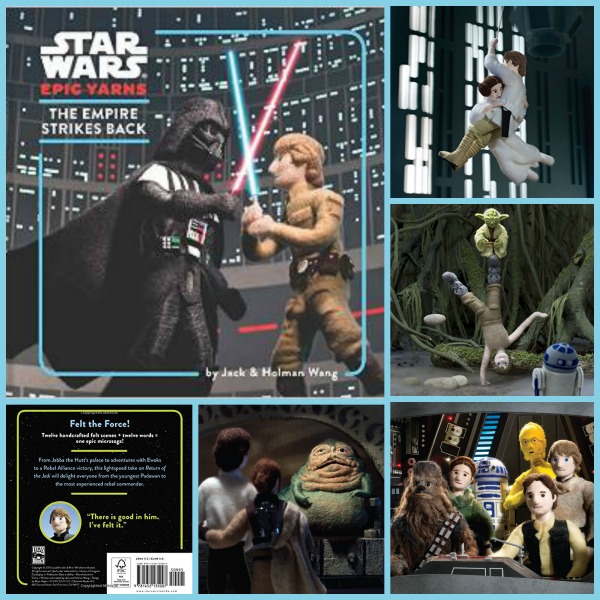 Complete your collection with Star Wars Epic Yarns: The Empire Strikes Back and Star Wars Epic Yarns: Return of the Jedi.
I highly recommend taking a look at these books. My son and I were pretty impressed.
Click over to the Chronicle books blog where the authors (twin brothers Jack and Helman Wang) share the Top 5 Things We Learned Making Star Wars Epic Yarns. The most interesting fact I read was why the scenes with storm troopers only had 2 storm troopers. I'll give you a hint: they revealed how long it took to make each storm trooper. Can you guess?
These books could definitely be added to a child's collection, especially if mom or dad is trying to indoctrinate them, but I think they will appeal to adult fans as well, in addition to those interested in the felted arts.