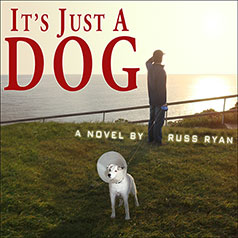 Bachelor Charlie Keefe has achieved some success as an artist, specifically as one who paints dogs, even more specifically his own Jack Russell Pete. When Pete dies, Charlie feels it. He has not only lost his best friend but his inspiration for his paintings. Anyone who has loved and lost a dog will appreciate his analysis of what others might think — that It's Just a Dog — weighed with the very real loss of an important part of his life. Where would he find his motivation to paint? To even get up and stroll the neighborhood? How would he enjoy eating his favorite foods without Pete there begging for some scraps?
After months of intense grieving, he finally comes back to himself, not only dipping into the dating pool, but agreeing to foster a dog, a prissy Brittany Spaniel, much different from crusty old Pete. It's good for him, but he must be feeling guilty about feeling better. He starts to see Pete's glowing ghost form and to even hear him talk.
This is where as a reader I had to readjust my thinking. You see, I thought I was listening to a memoir. At first I wrote it off thinking he was just making his thoughts a little literal. But then it seemed more and more real, so I glanced at the description on the CD cover and was reminded that it's really a novel by Russ Ryan, which made me feel much better and allowed me to start enjoying it again.
This novel is definitely from a man's POV, so his views on women and relationships aren't presented in the same way that women's fiction would be, but it was a light enjoyable read that is slightly different from what I usually.
Right now the Kindle version is only $.99.
NOTES ON THE AUDIOBOOK
You can hear a sample at the Tantor Audio page. Gary Galone did a great job of narrating, voicing the characters (and the dog!) differently and making it a fun listen.