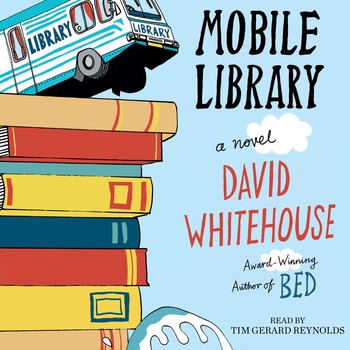 The beginning of Mobile Library by David Whitehouse started off as it ended. Two children and a woman were at the edge of a cliff inside of a mobile library surrounded by police. Who these people are and how they got there is what we learn in the rest of the story as it flashes back.
I don't know if it was because of the non-sequential beginning or a somewhat flat narrator of the audiobook version, but it took me a while to get into it. That happens more often with audiobooks where I have to listen than in books where I can sort of read quickly if I need to.
That said, once I got into it, I enjoyed it. The characters and the story were a bit quirky and sad, but there was something light and hopeful about it as well. It's told from the point-of-view of Bobby Nosku, a tween boy who feels a little as if he's disappeared since his mother did. He lives with his dad and stepmom, and collects what is left of his mother, bits of fabric and even hair. It's a little weird, but it rings true as something a grieving child would do.
Then his best friend Sunny is introduced. He's a little clumsy and has surgeries and metal to replace broken bones, leading he and Bobby to think he's turning into a Cyborg.
Bobby has been bullied, in fact, Sunny used to protect him, and when he befriends Rose, a girl on the street, he feels bad when he can't step in and protect her from bullies. But he can be her friend, and he does. Rose and her nurturing mother offer Bobby the unconditional love and acceptance that he's been searching for, just as he's searched for his mother for all these years.
Bobby, Rose, and her mother end up in an adventure in the mobile library, a trip that will help each of them figure out who they are and what they want out of life.
Fans of The Curious Incident of the Dog in the Night-Time and other books written from the POV of a child might enjoy this one as well.
You can listen to an excerpt of the beginning of the book at the Simon and Schuster Audio site.