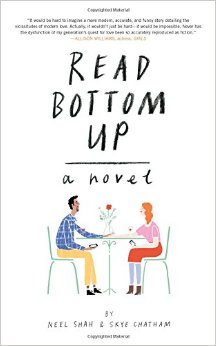 I have to admit, right from the start, that I knew Read Bottom Up would be a novel I wouldn't be able to relate to on a personal level. You see, I started dating the man who is now my husband when I was only 18 years old, and that was more than twenty years ago,  long before email, cell phones, and texting came into my life. Even so, I was entertained by the unique book that authors Neel Shah and Skye Chatham have written together, and I would imagine that those of the millennial generation would have a greater likelihood of seeing their own dating experiences reflected in this wacky story.
Consider this a modern-day epistolary novel, and rather than being comprised of documents such as those handwritten letters of long ago, the story is instead told in the forms of emails and text messages. At the center of the novel are two twenty-somethings, Elliot and Madeline, each single, but with interesting histories of exes, of course. After meeting at a restaurant opening, they begin to communicate via email, leaving behind a technological record of their earliest interactions. Both Madeline and Elliot have respective best friends to whom they turn for advice, often forwarding on the emails of the other, looking for help breaking down the messages or simply wanting to share the exchanges. As a result, the reader gets to see multiple sides of each interaction– what Elliot and Madeline say to each other, and what they also say to their best friends… which doesn't always match up.
The entire arc of a relationship can be witnessed from different angles as a result, with each character from the budding relationship given equal time to share, vent, or obsess (as it were) via emails and texts. Sometimes, the exchanges feel a little exhausting, but that only serves to lend it credibility. Even if I haven't dated since the early 90s, I still know lots about the ways people can drag out a written exchange through endless scrutiny and examination, especially with a best friend as a partner in the action. Also, seeing both perspectives helps to shed light on the ways in which one situation can be seen in such vastly different ways by different people.
What really intrigued me the most, though, was the manner in which this novel was created by Shah and Chatham– a super cool and unique approach. Here's their explanation from the Authors' Note:
This book is composed entirely of carefully time-stamped emails between our hero (Elliot), our heroine (Madeline), and their respective best friends (David and Emily). But format alone is not what makes this book a mirror of our lives. We also wrote it in real time — emailing from the perspective of two characters apiece — which means that, just as you wouldn't see your boyfriend or girlfriend's emails to his/her best friend, we, as authors, never saw each other's complaints or cries for advice. Nor did we see the well-meaning (but often biased) responses that came back. We're reading half of this book for the first time, same as you. We're seeing the parts of Madeline and Elliot's relationship that we were never meant to see.
Read Bottom Up can easily be consumed in one sitting, and the stick figure visuals at the top of each section are a handy and quick reminder of whose correspondence will be next presented. With pop culture and social media references placed throughout, there is a fresh and current feel to the novel that adds to the realism. I couldn't help but laugh as Madeline and Elliot made their way through those early stages of a new relationship, but in the end, I was reminded of how thankful I am to not be dating in the 21st century!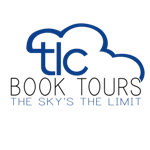 We're happy to be participating in the TLC Book Tour for Read Bottom Up.
Check out our current giveaways. Subscribe to our feed. Follow us @5M4B on Twitter or on Facebook.