Parents get a lot of messages from our society, but one of the least controversial and most ubiquitous is the advice to read to your kids. Read lots. "You can't read too much," I've been told, although I know that's not true because I can, and do. (Really. We eat supper late almost every night, and sometimes I'm not as prepared for teaching as I should be and I'm running late because I was reading. The struggle is real.)
What do you think? Can you read too much to your children? Should you censor your books? Will reading about Max make your own little Wild Thing rumpus about till you have a headache, or will Curious George turn your own little darling into someone that ruins your newspaper? I say yes, this is a real risk we take in reading to our children. Oh sure, positive things can happen. When my children were about 6 (twins) and 8, I was never worried about a dragon attack, because we'd all had long discussions about how to discover the weak point (a la Bard and Smaug, and yes this was long before those horrible Hobbit movie/travesties).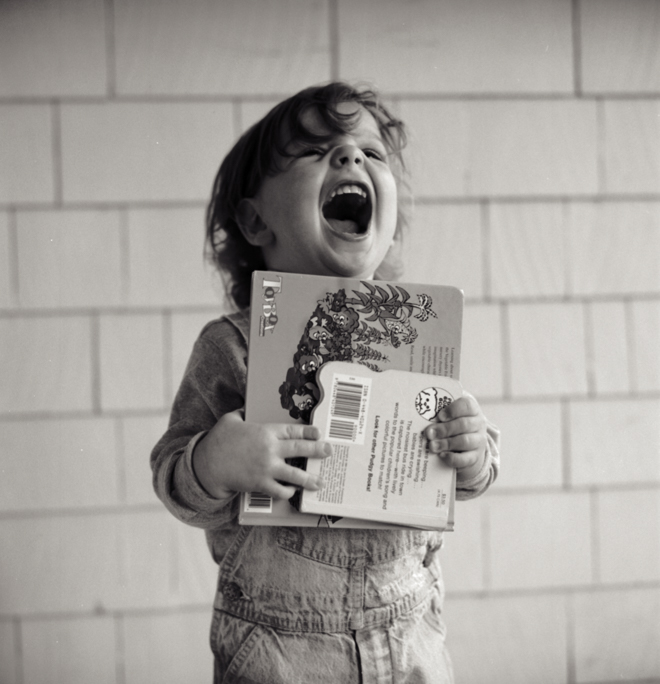 Elliot, about 2 years, before his love of books complicated things
When Ilsa went through her Harriet the Spy phase, and Elliot's backpack got stolen at school, it was lovely to see her searching the sandy school courtyard for clues, and writing them all out in multi-colour pens. It was during this stage that I also found the following on her floor. I reproduce it exactly, spelling and grammar intact as written: "Four friends are forming a new organisation. The C.T.A. is the name. Matthew is a 10 year old boy happy and kind and his sister Esther, a bright happy Girl. Abel intelligent but capable of rages and Ilsa, a girl who does not (underlined twice) adore every language. These four friends all injoy exercicing, to play and love mysteries!"
So yes, I admit there are advantages. But is it worth the risk? Click on over to 5 Minutes for Mom to read my article detailing some of the dangers of reading Curious George to a 3 year old and having him discover Calvin a few years later.